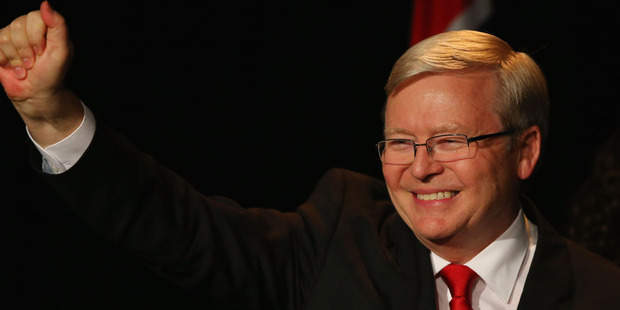 Labor has survived in former Prime Minister Kevin Rudd's Brisbane seat of Griffith with the help of Greens' preferences, although late yesterday the Liberals were still refusing to concede defeat.
With counting of postal and pre-poll votes continuing, Labor candidate Terri Butler appeared to have a clear lead despite a marginal swing of about 0.9 per cent to Liberal opponent Bill Glasson.
Both sides are claiming victory: Butler almost certainly heading to Canberra and pronouncing the result as a sharp slap for Prime Minister Tony Abbott; Glasson and senior Liberals declaring a moral victory with a continued swing to the Government in one of the Opposition's safest seats.
The Griffith byelection starts a year of omen-hunting among political pundits, with the Labor governments of South Australia and Tasmania heading to the polls next month, a possible re-run of the disputed Senate election in Western Australia, and Victorian Denis Napthine's Liberal administration facing the polls in November.
While traditional wisdom holds that state elections are fought on local issues and do not reflect national trends, both sides of politics are heavily pumping federal policies in a bid to blacken the competing brands.
Labor is in deep trouble in both Tasmania and Victoria, and Liberal victories there would complete a coast-to-coast conservative carpet and leave Labor in power only in the Australian Capital Territory.
But Labor has high hopes for Victoria, where the state Parliament is imploding and Napthine is clinging to power by a fingernail. Whoever wins will claim reflected glory for their federal parties - and rejection of their rivals - on the broader national stage.
In Griffith, the seat held by Rudd until his resignation following last year's hammering by Abbott, Saturday's byelection was preceded by a stream of heavyweights from both sides, from Abbott and Opposition leader Bill Shorten down.
The Liberals had the weight of history behind them. Only once in Australian history - in Kalgoorlie in 1920 - has a byelection cost an Opposition a seat.
A Liberal victory would not have materially altered the shape of the Coalition-dominated Parliament but Abbott, who has been trailing in the polls despite his September landslide, would have gained a strong moral boost from a win.
Butler had no doubts about the significance of the result: "We've sent a very strong message to Tony Abbott."
But Attorney-General George Brandis said regardless of the result the swing from Labor was a loss for Shorten. "It is almost unheard of for there to be a swing against an Opposition at a byelection," he said.