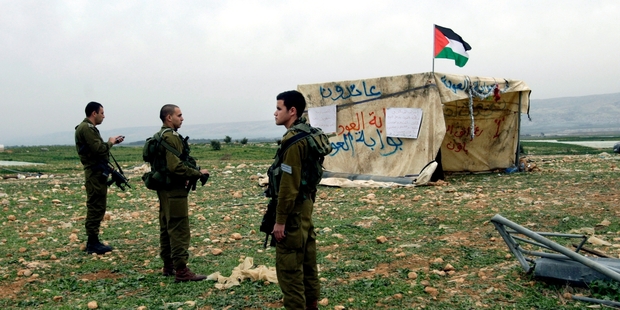 The Red Cross has stopped delivering emergency tents to Palestinians in a part of the occupied West Bank after aid intended for homeless refugees was seized by the Israeli army.
Hundreds of Palestinians have been left homeless by Israeli forces carrying out demolition orders in the Jordan Valley, and Red Cross officials said they were concerned that increasing amounts of aid were being confiscated.
"We are suspending the distribution of shelter materials because we have seen a pattern of obstacles and confiscations," Jon Larrson, a spokesman for the International Committee of the Red Cross, said.
"It's a difficult decision for us. We are hoping to reissue shelter assistance as soon as possible in dialogue with the Israeli authorities. We will resume when we get the message that our shelter materials will no longer be confiscated."
The Red Cross will continue to deliver other forms of aid, he added.
United Nations figures have shown that the number of Palestinian properties built without planning permission that have been knocked down in the Jordan Valley doubled last year - rising from 172 in 2012 to 390.
Last week, the Israeli army destroyed the tents and huts of a herding community in Umm al-Jamal in the northern Jordan Valley, leaving 66 people, including 36 children, homeless. Soldiers reportedly returned the next day to make sure there was no effort to rebuild.
In a joint statement yesterday, 25 global aid groups complained of "increasingly severe restrictions" in delivering assistance to homeless Palestinians in the West Bank and East Jerusalem.
Sixty-five aid items, including tents, were confiscated last year, the statement said, "in violation of Israel's obligation to facilitate the effective delivery of aid". Residents say the demolitions are intended to drive Palestinians out of the Jordan Valley, which has become a significant stumbling block in peace talks.
Israel insists its troops should remain in the area, which is home to about 4500 settlers. Right-wingers in Prime Minister Benjamin Netanyahu's government have called for it to be annexed, even though the Palestinians have earmarked it as part of their future state.
Mahmoud Abbas, the Palestinian Authority President, has said he will not countenance the permanent presence of Israeli forces, leaving United States Secretary of State John Kerry to seek a compromise. The Red Cross' decision comes after hundreds of Palestinian activists set up a protest camp against Israeli demands on the site of an ancient Canaanite village near the Jordanian border.
The camp, which has been established on land belonging to a Christian monastery, St Gerasimus, has been monitored round-the-clock by Israeli soldiers since protesters began arriving on January 31.
"We are sending a message to Mr Kerry and the United States that we cannot have an independent and real state without the Jordan Valley," said Moustafa Barghouti, a Palestinian legislator and a protest organiser.