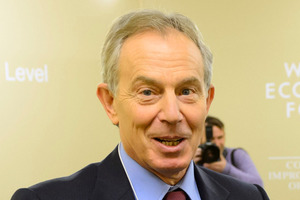 The reverberations from Rupert Murdoch's recent divorce continued yesterday with the release of a note in which the media mogul's ex-wife Wendi Deng allegedly gushes about the physique and personality of Tony Blair.
Vanity Fair, renowned for its exposes on the rich and powerful, published the memo as part of a profile of Deng. It said it cast new light on the close relationship between Murdoch's third wife and the former British Prime Minister.
Blair, 60, has denied that his relationship with Deng went beyond friendship. Sources close to the politician have said any claims to the contrary were "completely untrue".
The note, nonetheless, suggests Deng, 45, had formed a strong attachment to the former Labour leader, who had received Murdoch's backing before entering Downing Street and later built a strong friendship with him, becoming godfather to one of his two daughters with his third wife.
Deng allegedly wrote: "Oh, shit, oh, shit. Whatever why I'm so so missing Tony. Because he is so so charming and his clothes are so good. He has such good body and he has really really good legs Butt."
She continued: "And he is slim, tall and good skin. Pierce blue eyes which I love. Love his eyes. Also I love his power on the stage and what else and what else and what else."
When the Murdochs announced the end of their 14-year marriage last June, resulting in a no-fault divorce two months ago, they insisted they would "not engage in public allegations or respond to negative claims". But the decision has done nothing to quell speculation.
Vanity Fair said it had spoken to staff who had worked at one of the Murdoch family's homes and witnessed visits by Blair to locations including a 400ha ranch in Carmel Valley, California, which is now owned by a trust on behalf of Deng's two daughters. But the magazine published no evidence to contradict Blair's insistence that his relationship with Deng was platonic.
The article claims the pair fed each other during a meal. There is no suggestion the friendship was a factor in the divorce.
Quoting one Murdoch employee, the magazine said: "They were all mutual friends; there was no reason Mr Murdoch wouldn't have welcomed Mr Blair into his home.
"But one day Mr Blair arrived and Mrs Murdoch was being very flirtatious. She was charming him. He asked the staff, 'When is Mr Murdoch going to arrive?' And when he was told, 'Tomorrow night,' Mr Blair rolled his eyes and gave a panicked look."
Representatives of Blair declined to comment on the Vanity Fair article. The magazine said Deng had also declined to answer questions.
- Independent