Nato Secretary-General sees problems ahead as West cuts back while military budgets of power rivals grow.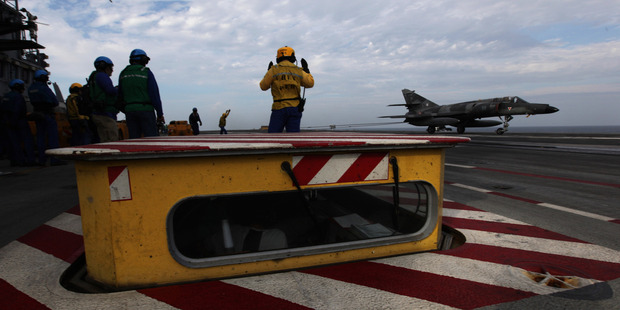 Soaring defence budgets in China and Russia mean that global military spending is growing for the first time in five years, according to forecasts.
Spending across Asia and the Middle East is rising, even as the military powers of Europe and the United States are forced to scale back dramatically in the face of austerity cuts, contributing to a steady change in the balance of military power.
The figures were disclosed as the Secretary-General of Nato issued a stark warning that the West will be forced to cede influence on the world stage because of its falling spending.
Anders Fogh Rasmussen said he was concerned about reductions in funding for defence in Washington and European capitals, while there was a military spending spree in Russia and China.
"When governments are forced to cut deficits and make deep cuts it's difficult to argue defence should be exempted," he told the BBC's Newsnight.
"But, of course, it is a matter of concern, taking into account that other powers invest more and more in defence, and at the end of the day it means we will have less influence on the international scene. The vacuum will be filled by other powers and they do not necessarily share our interests and our values."
The switch in global military spending means that the "centre of gravity of defence expenditure is expected to continue to shift south and east", according to IHS Jane's, the defence consultancy.
According to its latest annual defence budgets review, global defence spending will rise slightly to 945 billion ($1.84 trillion) this year, after four successive years in which the total fell from just over 1 trillion, its 2009 peak.
Within that, China's planned spending will for the first time eclipse the combined budgets of Britain, France and Germany. Beijing has set aside 90 billion for its military, up more than 6 per cent on last year, continuing its long-running trend of growing defence spending.
American spending - at 351 billion, still the highest in the world - is falling by 1.3 per cent this year, while Britain, which ranks in fourth place behind China and Russia, will spend 35 billion, 3.6 per cent less than last year. China is speeding ahead with a wide-ranging modernisation of its forces as it upgrades and replaces a broad range of hardware. This comes at a time of strained relations with its neighbours as territorial disputes in the East and South China Seas have intensified.
Last year, tensions were inflamed when China imposed a self-declared "Air Defence Identification Zone" over islands referred to as the Senkaku by Tokyo and the Diaoyu by Beijing. The Chinese and Japanese ambassadors to London then accused each other's governments of military aggression.
Craig Caffrey, a senior analyst at IHS Jane's, said China's budget was growing in line with its "rising global economic and geopolitical power rather than as a sign of belligerence".
However, he added: "There is valid concern that the scale and pace of the increase in defence spending will create a level of instability due to mistrust among neighbouring nations and that, to some extent, appears to be spurring increase of spending elsewhere in the region."
Other Asia Pacific nations boosting their defence spending include South Korea, India and Australia.
Spending increases are highest in Russia, the military budget of which will rise by more than 44 per cent over the next three years as it modernises its forces, spending 48 billion on defence this year.