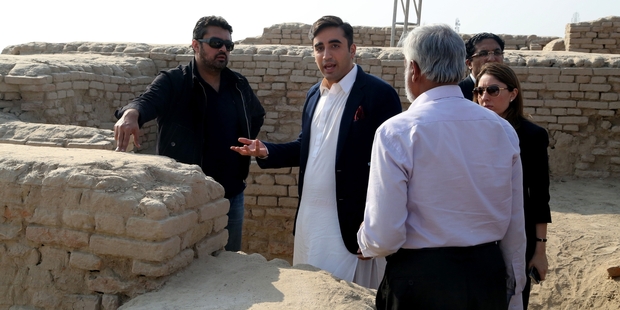 The son of Benazir Bhutto opened a new front in the war against extremism in Pakistan, with a glittering gala of music and fireworks set against the illuminated ruins of a Bronze Age city.
Bilawal Bhutto Zardari, who at 25 is heir to the country's grandest political dynasty, said his two-week cultural festival was designed to reclaim ground lost to militants and extremists.
"This is Pakistan's history, this is Pakistan's culture and we're proud of it," he said.
"We are going to try to mark out a line in the sand and say this is who we are and fight back against that."
It is a bold move by a young man untested in the country's ferocious politics but his vision for Pakistan could yet provide the philosophical framework for a tilt at power and a revitalised country - or provide his death sentence.
Several hundred politicians, socialites and diplomats gathered at the ancient site of Mohenjodaro to witness an opening ceremony that combined imagery from the 5000-year-old Indus Valley civilisation, that once dominated this part of South Asia, with dance beats and lasers.
Conceived with the help of friends from his Oxford days, Bhutto Zardari shrugged off the idea that the event marked his political coming-out party.
"This is a pre-politics sort of thing," he said, speaking with excitement as the sun set and workers readied the stage.
Yet in four years he could be Prime Minister of one of the world's most troubled countries: a fractured land with a growing nuclear arsenal, a hobbled economy and apparently bereft of ideas to tackle the suicide bombers who strike at will.
While the Government of Nawaz Sharif seeks talks with the terrorists, Bhutto Zardari has called repeatedly for decisive action against the Pakistan Taliban, the group that killed his mother as she left a campaign rally in 2007.
With such deeply held differences coming to the fore, he says his destiny lies in politics.
"I am my mother's son," he says, when posed the inevitable questions about such an iconic figure in Pakistan. He plans to overhaul his Pakistan People's Party (PPP) which suffered a humiliating defeat last year, learning his trade from the grassroots up.
That means talk of him becoming prime minister can wait.
"That's not my aim," he said. "My aim is to have a PPP victory in the 2018 election. It's five years from now, and that's an extremely long time in politics. It's a lifetime."
By promoting Pakistan's culture - including its pre-Islamic history - Bhutto Zardari hopes the country can reclaim freedoms from terrorists who hunt dancers and from their apologists in public office who ban YouTube.
"There is a shared culture, a shared history that binds us together as a nation - and that has not been allowed to happen because of our history of dictatorial rule."