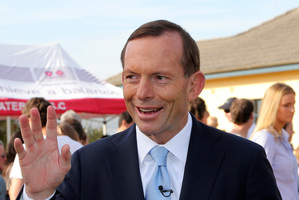 The developing scandal over corruption in the Australian construction industry has handed Prime Minister Tony Abbott his first real hammer in his plans to reshape the nation.
Abbott has made it clear he wants to sweep many of the previous Labor Government's reforms aside and stamp a traditional, conservative Liberal imprint across a broad spectrum ranging from social values to welfare, education, climate change and the economy.
He has also fired new salvos against the state-owned Australian Broadcasting Corporation - a long-standing Liberal target - accusing it of "taking everyone's side but Australia's" in reportage of spying against Indonesia and allegations of mistreatment of asylum seekers by the Navy.
So far Abbott has failed to take the nation with him. The latest Morgan poll said Labor had nudged its lead over the Coalition up to 53-47 per cent in the two party preferred vote since the last poll two weeks ago.
Since winning power last September Abbott has tried - and failed - to backflip on his pledge to maintain Labor's education reforms, and his plans to dump the carbon and mining taxes remain blocked in the Senate.
The joint ABC-Fairfax exposure of corruption in the construction industry, involving union officials, suspect businesses, organised crime figures and outlaw motorcycle gangs has given his attack on unions some real ballast.
The Council of Trade Unions and the Construction, Forestry, Mining and Energy Union have condemned any form of corruption and have asked police to investigate.
They say Government plans for a wide-ranging royal commission into the movement are a "political witchhunt".
With likely popular support, the Government will wring every benefit it can from the scandal. It wants to pressure Labor and the Greens into dropping their Senate block on the reintroduction of the Building and Construction Commission.
The commission, established by former Liberal Prime Minister John Howard's Government but dumped by Labor, had sweeping powers to root out corruption and illegal practices in the sector.
The Government is also broadening its attack on unions and existing industrial laws, announcing that it intends intervening on Toyota's behalf in the company's Federal Court dispute with the Manufacturing Workers Union.
Before Christmas it axed pay rises earlier awarded to child and aged care workers, among the nation's lowest-paid employees.
Employment Minister Eric Abetz has stepped up the attack on unions, attacking them for bulldozing "weak-kneed" employers into "unreasonable" wage rises.
"I have also wondered why the union bosses continue to push the envelope in making unsustainable demands, even when they know that it will ultimately end in their own members losing their jobs," he said.
Abetz also warned that if unions and employers did not take responsibility for the wider economic impact of their deals "we risk seeing something akin to the 'wages explosions' of the pre-Accord era, when unsustainable wage growth simply pushed thousands of Australians out of work."
Official figures show that wages growth is the lowest it has been since 1990 and that pay rises have only matched inflation.
Welfare is also in the Government's sights, with thousands of disability pensioners already moved on to dole payments, cutting incomes by A$150 a week, and further tough measures are likely to emerge from a review of the system. There were fears Abbott was also planning to undermine the Medicare universal health care system by charging A$6 for GP visits that are at present free, but the Government now appears to be backing away from what is already an unpopular proposal.