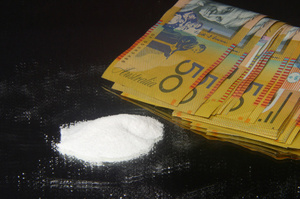 Australian organised crime fighters have uncovered a previously unrecognised level of sophistication and reach in crime groups laundering billions of dollars in drug money and funnelling money to terrorists and people smugglers.
A federal taskforce involving federal and state agencies, working with foreign organisations such as the United States Drug Enforcement Agency, has found and acted against 18 syndicates operating in Australia and overseas, with another 128 "high risk targets" revealed for the first time.
The groups have been operating through more than 20 countries, many in Southeast Asia or the Middle East.
In the past year the Australian Crime Commission has seized more than A$580 million ($616 million) in drugs and assets, including A$26 million in cash. Last week a record A$5.7 million was found stuffed into seven suitcases in a Mascot flat. A 58-year-old American was this week remanded in custody until February 26 on charges relating to the seizure.
The taskforce, named Eligo, also followed money trails to the biggest-ever clandestine drug laboratory discovered in Victoria, and a huge indoor hydroponic cannabis farm in New South Wales.
Eligo includes the ACC, the Federal Police, Customs and Border Protection, the finance-tracking agency Austrac and state and territory police forces.
It was established to counter the increasing reach of organised crime - costing Australia an estimated A$15 billion a year - and its use of sophisticated and complex financial systems.
The ACC has warned that organised crime has grown more pervasive, powerful and complex in the past two years alone and is now considered a threat to national security.
Acting ACC chief executive Paul Jevtovic said crime groups exploited globalisation and used sophisticated and elaborate money transfer structures to launder funds, and invested in research and development to develop even more efficient systems.
Investigators are assessing the money-laundering potential of the online digital currency Bitcoin, used by the web-based Silk Road black market, shut down by the US Federal Bureau of Investigation last year.
Eligo has linked Australian agencies to devise new counter-measures, tracking money to break the syndicates.
"Non-traditional law enforcement measures aimed at disrupting and deterring organised crime groups from targeting Australia have been used," Jevtovic said.
"Through these new methodologies, new areas of focus, and new and more efficient ways of investigation, we've been better able to unearth an elaborate network of criminal activity, and remove half a billion dollars from the criminal economy."
Targets included drug cartels - the source of the biggest slice of illicit cash - terror groups, outlaw motorcycle clubs and people smugglers.
The taskforce tracks funds channelled overseas through alternative remitters - international money transfer agencies operating outside mainstream banking often used by migrants to send money back to their families - and exchange houses laundering cash in the Middle East and Asia.
"The alternative remitter sector is among the highest risk of exploitation for money laundering in Australia by serious and organised crime," Jevtovic said.
Exchange houses have been used to siphon funds to terror groups, some of which Federal Police Commissioner Tony Negus said had become reliant on the system.