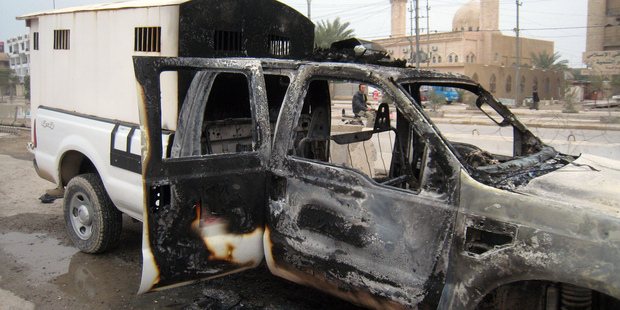 The United States and Gulf countries have been secretly backing rebel efforts to destroy al-Qaeda's most extreme wing in Syria, diplomats and rebels involved in the plan say.
As Western diplomats publicly push the Syrian regime and the opposition to the Geneva peace conference that begins today, Washington has also been quietly supporting moves by Saudi Arabia and Qatar to give weapons and cash to rebel groups to fight al-Qaeda's Islamic State of Iraq and al-Shams (ISIS). The development marks a new phase in the conflict, with international backers working directly with rebel commanders to target al-Qaeda cells.
"Everyone is offering us funding to fight them," said one commander in a rebel group affiliated to the Western-backed Supreme Military Council.
"We used to have no weapons with which to fight the regime, but now the stocks are full."
In the past year, ISIS has "hijacked" the Syrian uprising. Made up partly of foreign jihadists, it has sought to impose a medieval style Islamic caliphate run under a strict interpretation of sharia in rebel-held areas.
Its fighters assassinated rival rebel commanders whom they feared might be conspiring against them, or whose power they perceived as a threat.
The final affront, in rebel eyes, came in December when ISIS tortured and killed Abu Rayyan, a popular doctor and commander in a rebel brigade.
The subsequent battle against ISIS, which began a fortnight ago and has already claimed more than 1000 lives, is being touted by local commanders as a spontaneous reaction to the spate of assassinations of comrades.
But late last month a delegation including US and Saudi officials met in Turkey with senior rebel leaders.
One source said: "They talked about the fighting with ISIS, and the Americans encouraged the commanders to attack."
The Syrian Revolutionary Front, whose commander, Jamal Maarouf, is allied to Saudi Arabia, and the Army of Islam, a new coalition of moderate rebels sponsored by Qatar, have continued to liaise with the CIA and Saudi and Qatari intelligence, others close to meetings said. These groups got a boost in arms supplies. A source who facilitates lethal and non-lethal aid to Western-friendly groups said: "Qatar sent arms first. Saudi Arabia didn't want to be outdone, so one week before the attack on ISIS, they gave 80 tonnes of weaponry, including heavy machineguns."
A resident living close to bases for the Army of Islam and the Syrian Revolutionary Front in Idlib province said he had seen 15 trucks "filled with weapons going to the bases". Washington did not directly give arms, he said, but backed Saudi Arabia in its funding of the groups. The US had also been giving US$2 million ($2.4 million) in cash every month, splitting it between Western-friendly groups.
In Switzerland, rebels from Syria's front lines will be represented in peace talks with the Assad regime for the first time, despite concerns that the opposition is too remote from events on the ground. The talks, which begin in Montreux with statements of position, move to Geneva for detailed negotiations. Telegraph Group Ltd