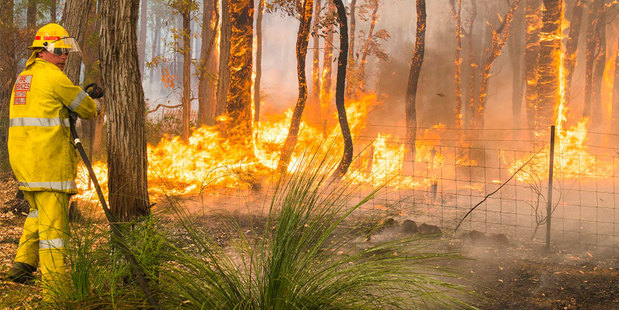 The menacing red sky turned blue as the wind change came and Halls Gap dodged a bullet.
In an instant the wind turned, changing the direction of an advancing bushfire and pulling it up 4km shy of the Victorian tourist town.
Rohan McDonald feared the fire would quickly be upon the Grampians town as he sat on a dam wall watching the atomic bomb-like smoke plume.
"All of a sudden, bang, the wind turned, the waves started coming down the lake and what looked red all of a sudden turned to blue sky."
McDonald, the owner of the Lakeside Tourist Park, was one of the few who stayed in the town.
With tourists evacuated, he did all he could to save the park, putting dozens of sprinklers on the buildings before moving to the relative safety of the dam's edge.
A few kilometres away, Halls Gap was a dark ghost town. The publican of the local hotel, Matt Humphries, left the town on Friday after being told at a community meeting the situation did not look good.
Victoria's Fire Services Commissioner, Craig Lapsley, said the wind change came earlier than expected. "Halls Gap dodged a bullet," he said.
By early yesterday afternoon residents were welcomed back. Ten homes were destroyed by the blaze and more than 51,800ha burned. Across Victoria 35 fires are still listed as burning, with 130,000ha burned.
Elsewhere, an emergency warning was issued for the Hells Hole fire, which is burning out of control over 100ha in the Copperhannia National Park area of New South Wales, near Bathurst.
Firefighters in South Australia continue to battle fires across the state but easing conditions have helped. Firefighters have worked quickly to contain and control a bushfire in Western Australia's South West region.
- AAP