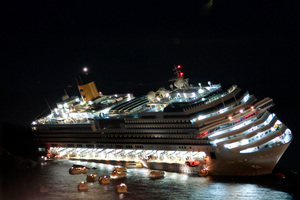 Almost two years to the day since Captain Francesco Schettino invited a Moldovan dancer on to the bridge of the Costa Concordia moments before it hit the rocks, a captain from the same cruise line has been reprimanded for allowing a Romanian woman to pose with a machinegun on the bridge of his ship.
The Costa Atlantica was sailing through the Gulf of Aden with an armed escort to ward off potential attack by Somali pirates when the skipper invited Sasha Alexandra on to the bridge.
Smiling and wearing a cocktail dress, she posed for photographs while holding a machinegun that apparently had been handed to her by one of two Italian marines who accompanied the cruise ship as it sailed through pirate-infested waters.
She was flanked on one side by the marine and on the other by the captain in his white uniform. The affair is an embarrassment for Costa Cruises, the company that owns both cruise liners.
It comes just two days after the second anniversary of the Concordia capsizing off the Italian island of Giglio, a disaster that cost 32 lives.
To make matters worse, the company was blackmailed by someone who got hold of the photographs and demanded money in return for not selling them to the press.
Costa Cruises reported the extortion attempt and an investigation is being carried out by the Italian postal police, who deal with online threats and other web-based crimes.
"Costa Cruises has been the victim of a blackmail attempt by unknown person(s), which was immediately reported to the competent authorities - in this case the Italian postal police," the firm said.
The captain, who has not been named, has been accused of "inappropriate conduct" and of violating the rules on who is permitted to access the bridge. He had been "disciplined accordingly", the company said, although a spokesman declined to divulge the nature of the sanctions.
The marine is also likely to be punished.