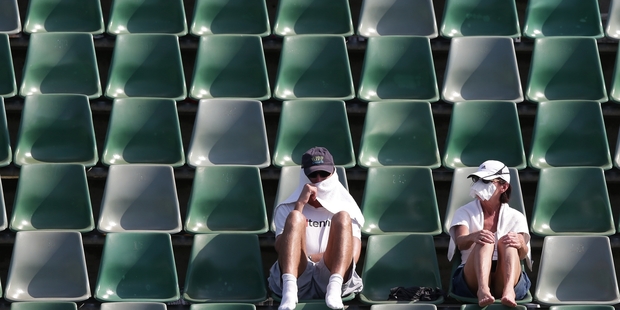 The men and women on the front line must wish it was only about a few pampered tennis pros who can't stand the heat.
If Melbourne's Rod Laver Arena feels like a furnace, across southeast Australia firefighters are bracing for the worst bushfire conditions since the horrors of Black Saturday.
Days of sky-high temperatures have left land tinder dry. Throw in strong winds forecast tomorrow, and the elements required for a deadly firestorm fall unsettlingly into place. In the bushfire debate attention usually focuses on arsonists, back-burning operations and whether to fight to save your home. But there isn't much talk about the idea of flicking the switch on a community's power supply. Which is surprising, when you consider up to 161 of the 173 people who perished on that terrible day in February 2009 were killed in fires ignited by electricity lines.
Go back to its predecessor as Australia's deadliest bushfire event - Ash Wednesday in 1983 - and you'll find the same criteria applied to more than half of the 75 deaths.
That day the sparks from wires clashing in high winds were identified as a prime cause of the fires. In those conditions a branch hitting a powerline, or a live wire falling to the ground, can spark wide destruction.
Last weekend's devastating blaze in Western Australia's Perth Hills is thought to have been caused by a powerline. The same suspect has been blamed for one of October's main fires in the Blue Mountains near Sydney that destroyed 193 properties.
Authorities in South Australia, where electricity lines contributed to each of the state's 28 Ash Wednesday deaths, have since embraced a pre-emptive approach.
On days of extreme fire danger, when average winds exceed 63km/h, the state's private electricity distributor can cut power in high-risk areas without legal repercussions. But that won't happen in New South Wales, or in Victoria, where the energy safety director has said he would recommend leaving the power on if faced with Black Saturday-type conditions again. Victoria's Bushfires Royal Commission concluded "failed electricity assets" caused five of the 11 major blazes that day. A powerline, and not an arsonist, is now thought to be responsible for a sixth fire, which killed 40 people.
To the annoyance of officials in Victoria, South Australian counterparts have indicated they would have turned power off had Black Saturday happened there. Opponents argue that puts more lives at risk than it potentially saves, particularly among the young, sick and elderly most vulnerable to heat.
Victoria's Fire Commissioner, Craig Lapsley, wonders how a farmer would protect his property without access to electric water pumps. "I think [the SA system] is fundamentally flawed."
Less frequently aired is the political backlash from residents denied air-con or food spoiled in fridges during sweltering periods when energy consumption can typically jump by 50 per cent. That's put the network under huge strain this week, prompting warnings of forced blackouts. Political leaders are appealing to people to cut back on electricity use to ease the burden.
There are also eye-watering financial factors: from the billions of dollars in fire damage to the A$750 million ($801.6 million) Victoria is spending on a bushfire safety programme to make its power assets less likely to spark them.
And corporate responsibility issues arise. Power firms have paid millions in out-of-court settlements, avoiding liability and negative findings.
It's a balancing act with potentially deadly consequences.