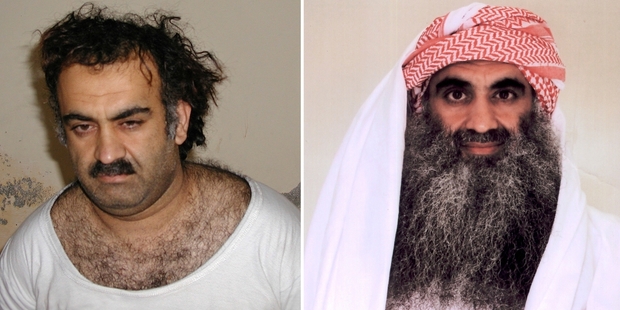 Details from an extraordinary exchange of letters between a care worker from Nottingham and the alleged architect of the 9/11 attacks can be revealed today, offering an unprecedented insight into the mind of one the world's most notorious Islamic militants.
Khalid Sheikh Mohammed, 49, who is held at Guantanamo Bay, has endured the harshest of the CIA's interrogation methods and allegedly confessed to a career of atrocities. Pre-trial hearings before a military commission are due to be held at Guantanamo next month.
In his letter to Rory Green, 25, Mohammed wrote: "I appreciate your deep concern regarding my worldly and hereafter life ... You asked me to repent from my sins. For your own information, I never stop."
Green began the correspondence when he was studying for a degree in athletics at Wingate University in North Carolina in 2011 after reading a newspaper article about Mohammed.
A devout Christian, Green wrote: "I am not here to trick you, [or] make you feel worse than anybody in the world. There is hope in forgiveness through Jesus Christ." Two years later, Green has now received a 27-page reply, debating the virtues of Islam over Christianity.
Mohammed's letter was handwritten, transcribed and typed by his lawyers. Green, who is a care worker at a home for autistic adults, received the letter last week, delayed in part due to his move back to Britain.
Explaining the delay, Mohammed wrote that mail could take from two to 18 months to arrive. Most ofMohammed's letter is theological and philosophical discussion.
Green said: "I am not surprised by [the letter]. But I am in the sense that it is a very pleasant, very polite letter. He is obviously an educated individual, an intellectual. It must be so lonely in that prison. I just had this compassion for him. I thought this man needs Jesus as much as the average Joe - who else is going to reach out to this man with love and prayers?"
Green said he would write back, adding: "I think terrorism is disgusting and senseless. If he is guilty, I pray for justice to be done."
Captured in Pakistan in 2003, Mohammed is accused of murder, hijacking and terrorism and faces the death sentence if convicted.
Yesterday one of his military lawyers, Major Derek Poteet, said he believed Mohammed was touched by Green's letter and wanted to share his own faith.
- Observer