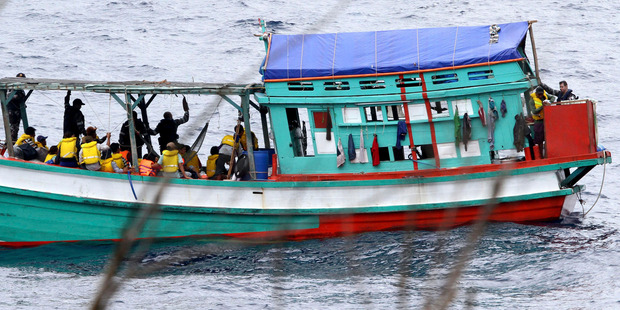 More fuel has been added to the growing debate over the decision to force boatloads of asylum seekers back to Indonesia with reports the Australian Government intends buying large lifeboats to return them safely.
Despite continuing rejection by Indonesia, Australia intends pressing ahead with the policy, reportedly planning the purchase of up to 16 lifeboats capable of carrying dozens of people transferred from unseaworthy vessels.
Immigration Minister Scott Morrison has refused to comment on the reports, based on information from an un-named Defence Department source published yesterday in Fairfax newspapers.
The report said the move was designed to frustrate people smugglers using unsafe fishing boats and sabotaging them near Australian waters to force border protection authorities to rescue passengers.
The report said the boats would have sufficient fuel and water for a week, but there were no details of how the scheme would operate.
Using naval or other agency crews to ferry them through Indonesian waters could be regarded as a breach of sovereignty.
Australian warships have turned two boats back to Indonesia, one of which ran out of fuel and ran aground on Rote Island. Passengers on the other boat were provided with lifejackets and communication equipment.
The number of boats attempting to reach Australia has slowed considerably in the past few months, hit by the former Labor Government's draconian policies, the approach of the monsoon season, and even tougher measures launched by the Coalition Government after its September election victory.
Both the Coalition and Labor pushed the boats to the top of their political agendas despite the relatively small number of people involved and the fact that until 2012 between 88 and 96 per cent of all asylum seekers in the previous decade arrived by air - without attracting the harsh measures directed against boat arrivals.
In 2012 boat arrivals grew to just over 50 per cent of people seeking asylum.
The decision to push ahead with the turnback policy has added to the diplomatic row between Canberra and Jakarta triggered by Australian spying in Indonesia. Retaliation included the suspension of co-operation on people-smuggling.
Although Indonesian Military Commander General Moeldoko has said he understood Australia's position and implied some form of military-to-military agreement on boat turnbacks, Foreign Minister Marty Natalegawa repeated Jakarta's opposition.
"Let me just once again put on record our rejection of policies that resemble the pushing back of boats, because such a policy is not actually conducive to a comprehensive solution to the issue," he said.
Natalegawa said that despite daily contact with Australian counterpart Julie Bishop, relations with Canberra remained in a "difficult phase".
International law expert Hikmahanto Juwana of the University of Indonesia told the Jakarta Post the turnback policy was a serious breach of Indonesian sovereignty and proof that Australia was not a good neighbour.
"Australia only wants to wash its hands of the matter and dump its problem on Indonesia," he said.
"This is not North Korea," shadow Infrastructure and Transport spokesman Anthony Albanese said. "This is not a Stalinist regime."