Romanian workers met by British MP and wall of media as border restrictions ease for two EU countries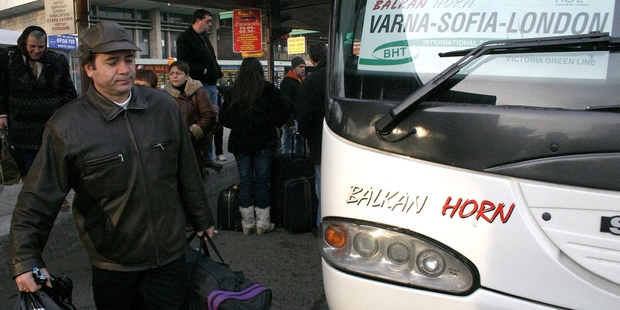 One was swapping a life hunting wild boar in the Carpathian Mountains for washing cars in London, the other was a handyman hoping to save enough money to pay for some home improvements of his own.
Both would have been unsure of the reception they would receive after arriving in Britain on the first flight on the day restrictions were lifted on citizens of Romania and Bulgaria.
But neither Victor Spirescu nor Julian Brbat, two friends from the village of Pelior, could have imagined that the welcoming party greeting them off an early-morning budget airline flight to Luton Airport would be led by the chairman of one of Britain's most powerful committees of MPs.
As apparently the only two people on the Wizz Air flight from Transylvania to be travelling to the UK for the first time in search of work, they found themselves thrust into the national spotlight as the unlikely face of Britain's increasingly acrimonious immigration debate.
If they were bemused by a line of television cameras, they seemed genuinely baffled and a little worried to be whisked into a branch of Costa Coffee for an impromptu meeting with Keith Vaz, the chairman of the Commons home affairs select committee and former Europe minister.
"My God - I don't come to rob your country, I come to work," exclaimed Spirescu as he realised he was to be asked to meet the politician.
"You open the border - I come to work, to make money, to go home."
After weeks of speculation about an influx of immigrants, the early morning flight arrived only three quarters full of Romanian workers and students returning to Britain after a Christmas break.
Vaz announced to the Commons before Christmas that, in the absence of official estimates of how many Romanians or Bulgarians would come, he was planning to go and count them in person.
Yesterday he played down the significance of the low numbers of new immigrants on the flight, remarking that it was "atypical" because it was a holiday. "We've seen no evidence of people who have rushed out and bought tickets in order to arrive because it's the 1st of January," he said.
"We'd be surprised if they did so, this is after all only a snapshot.
"But we do need to resolve this issue in the future, and it's an issue for the whole of the EU to resolve so we don't get these kinds of dramas at the end."
Vaz, the Labour MP for Leicester East, criticised the "panic measures" ahead of the curbs on citizens of Romania and Bulgaria being lifted.
Ninety senior Conservatives attempted to block the move in a letter to Prime Minister David Cameron, arguing he could invoke a clause in EU law to keep the borders shut. But ministers denied such a move would be feasible.
Victoria coach station in central London, one of the main destinations for visitors from the Continent and a place where busloads of Eastern European migrants were expected to arrive, was virtually deserted.
Amid the negative rhetoric by the Conservatives and UK Independence Party over immigration, Labour warned of the dangers posed by foreign workers coming to Britain.
At Luton, Spirescu, 30, explained to the MPs how they had been recruited to work in a car wash but emphasising how he had no plans to stay long-term.
The real draw, he said, was simple.
"I was receiving maybe 10 ($16.78) a day. Here I hope for maybe 10 an hour."
The first UK-bound flight from Bulgaria also had little evidence of the threatened influx of migrant workers. The flight from Sofia was less than half full with no passengers claiming to be travelling in the hope of finding work.
- Telegraph Group Ltd, Independent