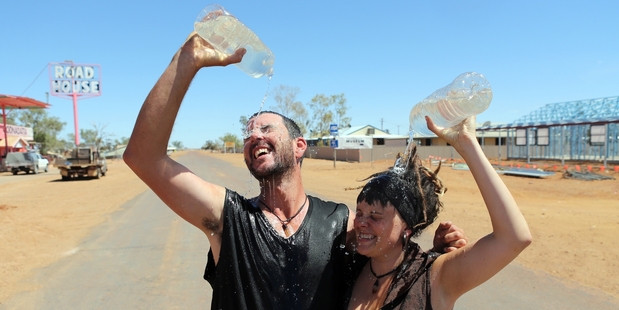 After a year which broke all Australian records, 2014 is already shaping up as another year of extreme weather, with major cities beginning to feel the heat.
Temperatures in some inland areas have been nudging 50°C amid warnings of catastrophic bushfire danger.
The hot weather baking parts of Queensland, South Australia and the Northern Territory is expected to intensify in the coming days, with temperatures in central and southwestern Queensland forecast to hover in the high 40s - the state's worst heatwave for more than 50 years.
Although capital cities have so far escaped the worst, the temperature in Sydney was 35°C and rising by lunchtime yesterday, while 39°C was forecast for Brisbane this weekend.
As temperatures soared across New South Wales yesterday, long traffic jams caused havoc for motorists.
Those seeking respite from the heat at western Sydney's Wet n' Wild water park instead found themselves sweltering in heavy traffic, the Transport Management Centre said.
The Wet n' Wild car park was full by 1pm local time.
With temperatures set to hit more than 40°C, people were expected to head to the beach. But those heading to the Royal National Park beaches also struggled against heavy traffic and a full car park at Garie Beach.
Dubbo in central west NSW was expected to experience a 39°C high, with Bourke in the upper west looking to be one of the hottest spots at 46°C.
On the Pacific Highway in north NSW, traffic queues of more than 8km snaked through Ewingsdale, while there were jams 5km long at Macksville.
The worst delays were between Woolgoolga and Coffs Harbour where the southbound lane was backed up by 12km, causing delays of 80 minutes.
"In the west of the state where temperatures of over 40°C are expected, dehydration and heat stroke are a real threat," NSW Ambulance said.
People were advised to stay inside in air conditioning, keep up water intake and minimise the consumption of alcohol in the hottest parts of the day.
In inland South Australia, 49°C was predicted for the towns of Moomba and Maree. Tarcoola has already hit 48.2°C this week, while Oodnadatta has recorded 47.7°C. Birdsville, an outback town notorious for sizzling heat, was expected to hit 48°C yesterday, just 1.5°C shy of its record, set in 1972.
South Australia was also braced yesterday for the tail end of Cyclone Christine, which brought torrential rain and destructive winds to Western Australia's Pilbara region this week.
Catastrophic fire warnings have been issued for four districts in the north of South Australia.
The Country Fire Service dealt with more than 80 incidents on Wednesday night, including multiple grassfires and a blaze in a building in the coastal town of Port Augusta which caused more than A$100,000 ($108,410) of damage.
Some of the fires were caused by people setting off fireworks illegally.
Last summer, Australia experienced record- breaking heatwaves, severe bushfires, cyclones and floods. The 2013-14 bushfire season began ominously early, with bushfires in October destroying more than 200 homes in NSW, mostly in the Blue Mountains west of Sydney.
Chief CFS officer Greg Nettleton warned locals and holidaymakers in SA to be vigilant, noting that "we've still got the whole of January, February and March to get through".
In the Pilbara region, emergency crews were working yesterday to repair infrastructure and clear debris left by Cyclone Christine, which battered centres between Port Hedland and Karratha with gusts up to 200km/h.