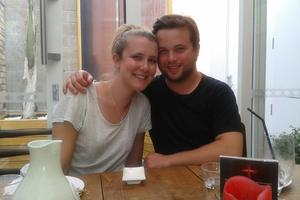 A young Auckland woman has told how she and her friends fled London's Apollo Theatre when the roof collapsed this morning.
Scores of people were injured, seven seriously, when masonry fell some five storeys onto the heads of a sellout 720-strong crowd watching The Curious Incident of the Dog in the Night-time.

Aucklander Amy Woollams, who was in the crowd with boyfriend Scott MacKenzie and their friend Claire Sussmillch, said she was feeling anxious and unable to sleep after their ordeal.
They were sitting on the top of three balconies inside the 112-year-old theatre when they noticed people in the audience moving unexpectedly.
Read more: 'There was panic, there was screaming'
"We were just sitting there watching and then I noticed down the front row of our tier some people in the middle started moving out towards the sides," Ms Woollams said.
"I got annoyed and thought 'what are they doing', that's so rude."
The people who were moving were likely to have been among those who heard strange noises coming from the roof.
"Maybe 10 minutes into the performance we heard a tap-tap noise, we thought it was rain," 18-year-old Desmond Thomas told AFP.
"There was a crack and then it suddenly seemed to get bigger and suddenly it collapsed. The next thing we knew the whole theatre filled with dust and smoke."
Ms Woollams, 26, told APNZ the theatre was silent in the seconds before the collapse.
"A girl yelled out 'get out' and all of a sudden a huge chunk of the roof dislodged and there was smoke all around it.
"I thought it was part of the show at first - I think most people did.
"As soon as everything fell people started screaming."
She grabbed her bag and with her friends sprinted to the nearby doors.
They ran across the road and stood for about 15 minutes watching theatregoers emerge from the chaos.
"Everybody was standing outside hugging. A few people were crying - a lot of people looked kind of glazed over and they just seemed to be in shock and that's how we felt as well.
"People were coming out covered in dust. At that stage we decided we didn't want to see anything more so we left but I know people were coming out with blood all over them."
Hundreds of emergency workers rushed to the scene and freed those trapped inside.
Paramedics initially said 88 people were wounded but later revised the number downwards to 76.
Seven were seriously injured, another 51 "walking wounded" were taken to hospital with minor injuries and the rest were treated at the scene.
Several people were stretchered out of the theatre, while others with bandages on their heads were being treated in triage centres set up in the lobbies of the nearby Gielgud and Queen's theatres.
Simon Usborne, a journalist for The Independent newspaper who was watching the show, said there was "chaos".
"Loud bangs, cracks. Thought was part of show then whole interior of theatre filled with curtain of dark grey dust and debris, falling on heads of anyone not sheltered," he tweeted afterwards.
Prime Minister David Cameron said he was being kept updated on the incident and was "grateful for the fast work of the emergency services in helping the injured".
Police said they were investigating the cause of the incident alongside structural engineers from the local council.
The current owner of the Apollo, Nimax Theatres, said the collapse was a "shocking and upsetting incident".
When the Herald talked to Ms Woollams about 1am London time, she and her boyfriend were still in a state of shock and could not get to sleep.
"We keep saying we hope that no one dies. We're just checking the news. We were lucky with where we were sitting, we saw it all but we weren't really in any danger."
- APNZ