Last look at Mandela overwhelms many of thousands queuing to say good bye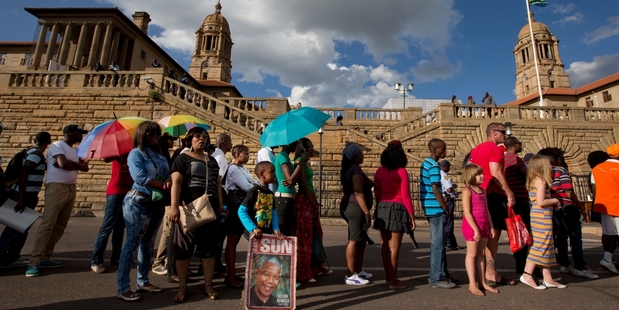 For the thousands of grieving South Africans who came to pay their respects, it was the final confirmation of news they could hardly believe. For many, it proved too much to bear.
The sight of Nelson Mandela lying motionless reduced most to tears, prompting some to faint or collapse sobbing on the stone floor.
Lying just metres from the podium at Pretoria's Union Buildings where he was sworn in as South Africa's first black President, Mandela looked younger than his 95 years.
Dressed in one of his trademark batik shirts, his salt-and-pepper hair neatly trimmed, he had a faintly troubled look on his brow.
At each corner of the coffin, naval officers stood dressed all in white. To one side sat Mandela's oldest grandson Mandla in silent vigil.
If the memorial service in a football stadium in Soweto was for the great and the good to pay their respects, yesterday gave ordinary South Africans a chance to say goodbye.
Wilhelmina Mogamir, 46, a court officer, put on her best black dress, costume jewellery and pink and black hat to visit. She was among those whose faces crumpled and gait faltered as they walked away. A burly soldier stepped out of formation to support her, offering tissues and water. "I just can't believe it," she said, tears spilling down her cheeks. "I feel like bursting with sadness."
Dorothy Lebelo, 65, another mourner, said: "I kept looking back, I didn't want to let him go. He was so pale. It made my heart sore to see him lying there."
Sharon Taylor, 68, and her friend Linda Coch, 66, travelled for two days from Pennsylvania in America to attend the lying in state. "I would do it all again just for that moment, just to pay homage," Taylor said.
A soldier standing watch over the coffin said the outpouring of grief was a necessary part of South Africans coming to terms with their loss.
"The nation needs this, to really say goodbye," she said.
Also saying goodbye were members of Mandela's large family and friends.
Long queues spiralled down the hill from the Union Buildings through Pretoria's grid-formation streets.
Clutching umbrellas to shade them from the sun that has finally emerged five days after Mandela died, the good-natured crowd stood in single file and sang repeated verses of the anthem to while away the long wait. As mourners climbed the broad sandstone stairs towards where Mandela lay, they fell into a hushed silence.
Parents lifted children into their arms as they approached his coffin, murmuring into their ears the story of Mandela's life as they walked past.
As his flag-draped coffin was driven through Pretoria's streets earlier, yellow roses were thrown in its wake. The process was repeated overnight and will be tomorrow before his burial.
"I wanted to pay my respects for Madiba," said Letitia Loots, 39, who grew up in an Afrikaans family during the time of apartheid.
Loots' 10-year-old son Marcel was holding a South African flag with his friend Oratile, 9, who was black.
"When I was still in school, blacks were not allowed on the bus," Loots said. "Now, we are great friends with some of the black people. Very good friends, they visit my house, no problem. It is thanks to him."