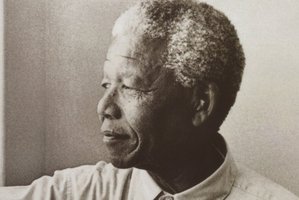 Nelson Mandela spent his first night of freedom at Desmond Tutu's home.
He had not wanted to stay at Bishopscourt, he recalled later, because "I thought it would have sent the wrong signal to spend my first night in a posh white area".
But things had changed in the 27 years that Mandela had spent incarcerated at Robben Island. In 1990, Bishopscourt was still posh, but it also had non-white residents, at the insistence of the first black Archbishop of the Anglican Church in South Africa and Nobel Peace Prize winner who had earned great respect for his non-violent campaign against apartheid.
Yesterday, Tutu presided over a remembrance ceremony for his house guest that night 23 years ago which was anything but maudlin with jokes and waves of laughter. Steadfast supporters in the fight against apartheid, including the singer Peter Gabriel and Mary Robinson, the former Irish President, were resoundingly cheered.
Madiba, said the Archbishop, was "a magician who had turned South Africa, a poisonous caterpillar, into a beautiful butterfly".
He described the brutality Mandela had endured in prison leaving him with damaged lungs and eyesight.
"But he came out of prison to set us free from hatred and racism. The world expected a bloodbath and atrocities, what we now have, instead, is this wonderful multicultural rainbow."
The Archbishop claimed that he had forced Mandela "to make an honest woman" of his last wife Graca Machel. "I told him you are setting a bad example. You should not be shacked up, marry her."
If Mandela was the leading political force in the campaign for emancipation, Desmond Tutu provided the moral compass, passionately declaring segregation and discrimination were against God's will, helping to galvanise swathes of religious opinion across the world against the racist regime.
Mandela had stressed how much he valued the Archbishop's friendship describing him as "sometimes strident, often tender, never afraid and seldom without humour".
- Independent