Accusations Australian politicians approved bugging of meeting room to gain bargaining advantage over poor neighbour.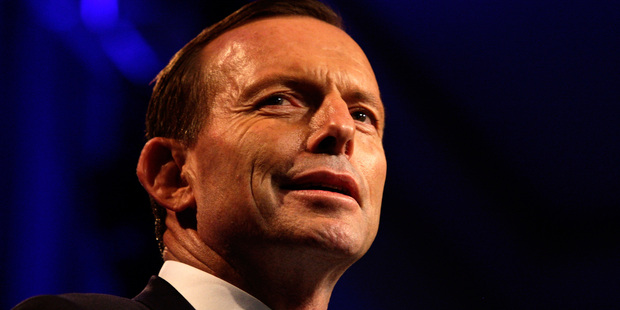 Prime Minister Tony Abbott supported the raids: "We don't interfere in cases, but we always act to ensure that our national security is being properly upheld." Photo / Getty Images
Australia has become embroiled in yet another espionage scandal, this time entirely of its own making and allegedly using the instruments of national security to gain commercial advantage over its impoverished neighbour, Timor Leste.
According to evidence to be presented to a case in The Hague, the foreign spy agency, the Australian Secret Intelligence Service, concealed microphones in the Timorese Cabinet room to eavesdrop on tactics the infant country was adopting in negotiations on an oil and gas treaty with Australia.
Unlike the unrelated revelations of spying on Indonesia, China and other Asian nations for the "Five Eyes" intelligence alliance, the allegations case points directly to Australian political involvement and, in particular, then-Foreign Minister Alexander Downer.
The case also has the potential to seriously undermine Canberra's humanitarian programmes abroad, with claims Australian aid staff collaborated with ASIS in hiding the microphones in hollow walls.
The Government has reacted by raiding the home and office of Canberra lawyer Bernard Collaery and seizing files and electronic records.
These include correspondence between Collaery and Timorese President Xanana Gusmao, and leading counsel Sir Elihu Lauterpacht, professor of international law at Cambridge University, and Professor Vaughan Lowe, professor of public international law at Oxford.
Collaery told ABC TV the seizures were pointless and "crass" because the evidence was already in The Hague: "What do you think the tribunal [at The Hague] is going to think of it?"
Agents of the domestic spy service the Australian Security Intelligence Organisation also detained and questioned a key witness for Timor Leste's case at the Hague and seized his passport. The whistleblower, now retired, was at the time of the alleged bugging director of technical operations at ASIS, who Collaery said would have provided credible evidence to support the claim. "We're talking about a very senior, experienced, decorated officer who formed a proper view, as would any good person, that there was a wrong operation," he said.
Attorney-General George Brandis confirmed in a statement he had authorised the raid on Collaery's home and office on the grounds that the documents contained intelligence related to security matters. But he denied the move was a bid to suppress evidence.
Prime Minister Tony Abbott supported the raids: "We don't interfere in cases, but we always act to ensure that our national security is being properly upheld."
The spying allegations relate to negotiations between the two countries in Dili in 2004 over the sharing of the Greater Sunrise gas field in the Timor Sea, crucial to Timor Leste's future.
Australia's Foreign Affairs Department describes the tiny country, which won independence from Indonesia in 2002, as one of the poorest in the Asia Pacific region and one of the most heavily petroleum-dependent economies in the world. Its gross domestic product of just US$4.2 billion ($5.1 billion) pales beside Australia's huge US$986 billion. Its per capita GDP of US$4829 is similarly minuscule beside Australia's US$43,300.
But Australia played hardball, winning a 50-50 split in a deal that also prevented Timor Leste from negotiating new maritime boundaries for 50 years. Timor Leste wants the agreement scrapped and a new deal negotiated.
According to the evidence Collaery intends placing before The Hague, then-ASIS chief David Irvine, now head of ASIO, directed the bugging of the Timorese Cabinet room, at the time undergoing extensive renovations. Timor Leste claims Irvine sent an ASIS technical team to liaise with an Australian aid construction team renovating rooms for senior ministers, and that listening devices were installed in walls.
Collaery said the bugging would have required the approval of "the requisite Australian minister". Downer was Foreign Minister at the time but said in a statement the allegations were old and that he would not comment on intelligence matters.
"This was a commercially designed conspiracy in Canberra to bring about a successful result for Australia over a deposit of gas and oil which is minuscule compared with Australia's own reserves. This had nothing to do with our national security," Collaery said.
The allegations have previously been raised with Australia by Timor Leste, including an approach for former Labor Prime Minister Julia Gillard in December last year, without response.
Fixing the deal:
* Timor Leste alleges Australian spies bugged its new cabinet room as the two countries prepared to negotiate a deal to split gas production in the Timor Sea.
* A case in The Hague will hear that the bugging gave Australia a huge bargaining advantage in the 2004 deal.
* Timor Leste wants the agreement scrapped and new negotiations for a replacement.
* Australian Attorney-General George Brandis authorised raids on the home and office of a Canberra lawyer to seize files and electronic records.
* A former spy turned whistleblower was detained and his passport seized as he prepared to give evidence in the Hague.