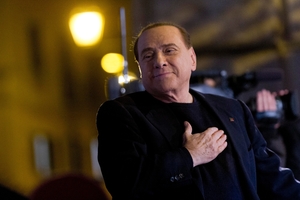 He was never going to go quietly.
Silvio Berlusconi defiantly pledged to remain at the heart of Italian politics yesterday despite being ignominiously stripped of his seat in Parliament as a result of a conviction for massive tax fraud.
His expulsion, at the end of a momentous day in Italian politics, would have left most politicians slinking off to an obscure retirement stained with shame and regret.
But Berlusconi used the occasion to audaciously relaunch himself once again, promising to lead his Forza Italy party to future elections.
Far from being bowed, the scandal-ridden 77-year-old came out with all guns blazing. The vote, which was the consequence of a conviction he received in August for tax fraud in the purchase of film rights for his Mediaset TV empire, marked "a day of bitterness, of mourning for democracy", he said.
Having defied the advance of time with facelifts, hair transplants and a 28-year-old fiancee, Berlusconi promised to defy his political enemies.
He told a crowd of about 1500 supporters who had been brought to the capital from all over Italy by buses paid for by his party: "We're staying here!"
He pointed out other political figures, notably Beppe Grillo of the anti-establishment Five Star Movement, were able to lead their parties despite not being MPs.
A Senate majority voted to expel the three-time Prime Minister, bringing to an end a tumultuous, 20-year career marked by sex scandals, corruption investigations and allegations of mafia association.
Berlusconi chose not to be in the Senate for the vote, anxious to avoid the humiliation of being marched out by ushers. Instead he appeared outside Palazzo Grazioli, his mansion in central Rome, where he addressed his supporters.
Female members of his party, including Alessandra Mussolini, the granddaughter of the Fascist dictator, wore black as they solemnly filed into the Senate. Down the road Berlusconi played the crowd, announcing the formation of Forza Silvio (Go Silvio) political clubs across the country, "even in the tiniest villages".