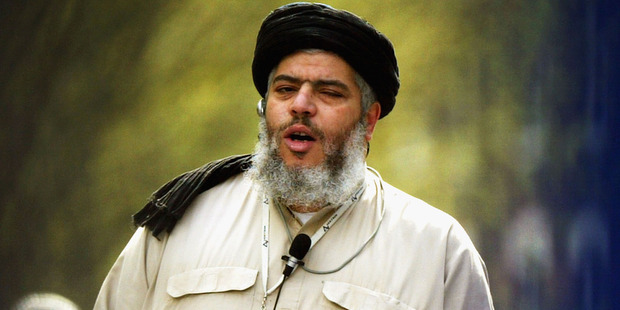 French spies plotted to pose as neo-Nazis to assassinate Abu Hamza, the extremist cleric, in London because they were so frustrated with Britain's failure to deal with him, it has been claimed.
They planned to send the fanatic fake death threats from the far-right group Combat 18 before shooting him with weapons said to be associated with that group.
In a separate move, they also plotted to kidnap Hamza and take him to France, a report by the campaign group Hope not Hate claimed.
Intelligence services across the Channel hatched the assassination plan in 1999, amid tensions between the two countries over the scale of Islamist extremism in Britain.
They also wanted to seize on concerns at the time about far-right extremism in the wake of the nail bombings in London that year by David Copeland, a neo-Nazi, which left three people dead and more than a hundred injured.
Hamza and other fanatics based at the Finsbury Park mosque in London, were suspected of having links with Rachid Ramda, who was jailed for involvement in the 1995 Paris Metro bombings.
Amid a long-running battle to extradite Ramda from Britain, the French referred to the capital as "Londonistan" because of its reputation for sheltering Muslim terrorists.
The French plot was contained in an in-depth report about the now banned extremist group al-Muhajiroun, which Hamza had links with.
The report, Gateway to Terror, claims the group was the "biggest gateway to terrorism in recent British history".
It was co-written by Nick Lowles, the chief executive of Hope not Hate, a former editor of the anti-fascist magazine Searchlight.
On the Hamza plot, the report said: "The plan was to impersonate the British Nazi group Combat 18 and then allow them to take the blame.
"In the immediate aftermath of the London nail bombings, the French considered sending death threats in the style of C18 and then killing him with the same type of weaponry that the group was thought to possess.
"However, as with the kidnap plan, the assassination attempt was aborted and it is unclear how advanced the planning of either idea progressed."
Hamza was last year extradited to America to face terrorism charges.
The report claims 70 people convicted of terror-related offences or known to have died fighting overseas had a link to al-Muhajiroun.