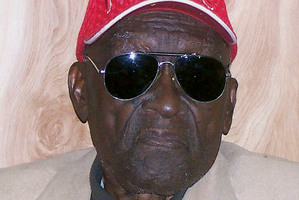 Prosecutors will not file criminal charges in the case of a 107-year-old US man who died in a police standoff this year.
Special prosecutor Jason Barrett said Monroe Isadore was "seemingly confused" on September 7, the day he shot at police in Arkansas.
An officer returned fire and killed Isadore.
Police have said they tried using a camera, negotiating tactics and gas before shooting Isadore.
Barrett and deputy special prosecutor Jack McQuary were appointed to handle the case after the county prosecutor sought to recuse himself.
"Mr. Isadore, for whatever reason, was seemingly confused on the day and basically when the police tried to make contact with him, he fired five individual rounds at various times at their attempts to make communication and ultimately at them personally," Barrett said Friday. "The last rounds that were fired were fired directly at individuals, who returned fire."
Police said in a statement on Friday that the department won't comment on the specifics of Isadore's case until an internal investigation is complete.
A friend of Isadore's, Laurie Barlow, told officers she had gone to the house where Isadore was living temporarily to take him to his new home, according to police reports. She said Isadore previously had been excited about moving, but that Isadore locked himself in his room and refused to come out when she arrived.
"Ms. Barlow stated that Mr. Monroe Isadore pointed a handgun at her, and warned her to stop breaking into his house," according to a detective bureau summary released Friday.
Police were called to the home and tried to talk to Isadore through a bedroom door. They didn't have any luck, and instead they heard a gunshot from the room, according to the detective summary.
Police called for a negotiator, and at some point, a SWAT team maneuvered a camera into the house to see how Isadore was armed.
Authorities kicked in the bedroom door after deploying gas and a distraction device, according to police documents.
-AP