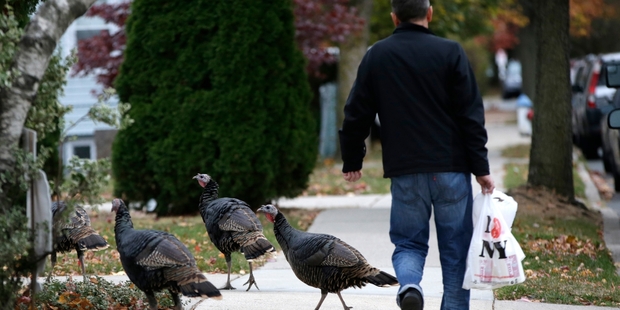 America's attention is turning once again to turkeys as the Thanksgiving harvest holiday approaches next week, and a flock of the wild birds in New York City has caused a heated debate.
After decades of effort to halt the decline of the symbolically American birds, experts say the nation's wild turkey population has rebounded from about 300,000 in the early 1950s to around seven million now.
And some of them are moving into the big city.
A population of roving turkeys on New York's Staten Island has become a mess-making, traffic-stopping annoyance to some residents, a surprise natural attraction to others and a problem for officials. Dozens of the turkeys were rounded up and killed this American summer.
"We don't want to kill them. We just want them to leave us alone," said Barbara Laing, who watched as at least 50 turkeys converged outside her house one recent evening.
The turkeys foul yards with droppings, devour gardens and wake up residents with pre-dawn mating sessions.
The birds have adapted to settings as densely populated as lower Manhattan, where one nicknamed Zelda hangs out. They've been accused of attacking residents in the Boston suburb of Brookline and menacing schoolchildren in Wisconsin.
Turkey complaints have led to at least one arrest of a resident who set off fireworks to try to disperse the birds in 2007 - and schemes such as coating turkey eggs with vegetable oil in hopes of preventing embryos from developing. It didn't work.
The controversy peaked in August, when the US Department of Agriculture captured some of about 80 birds at the psychiatric hospital and took them to be slaughtered.
After an outcry, an animal shelter in the Catskills agreed in September to take 28 of them.
More birds were rounded up and killed last month. Officials envision the slaughtered, now-frozen birds becoming a Thanksgiving turkey dinner for food pantries for poor residents, but they're awaiting test results for pesticides and other chemicals the birds might have gobbled up.
If the turkeys can't be released in the wild, "I would rather see them slaughtered than see them cause an automobile accident," said Staten Island Borough president James Molinaro. "They're not made for a city."
But others were aghast.
"It's a horrible thing. You take animals and just kill them? What kind of world are we living in?" said Joe McAllister, a local neighbourhood association president who joined an August protest denouncing the slaughters. Online petitions have gathered thousands of signatures.
For now, it's not clear if more captures are planned.
AP