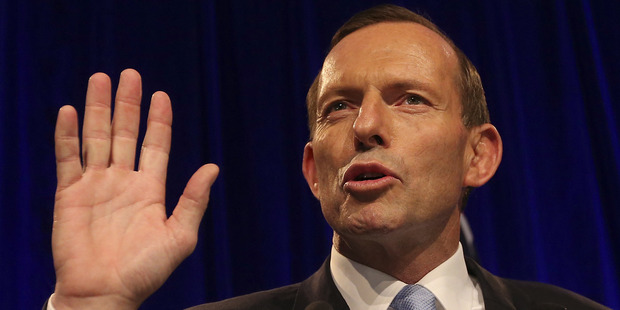 Australia is struggling in ever-deepening waters as it tries to find a formula that will soothe Indonesian outrage over its spying activities without compromising its intelligence operations.
Prime Minister Tony Abbott was yesterday attempting to find an acceptable path following his receipt of a letter from Indonesian President Susilo Bambang Yudhoyono demanding an explanation for the tapping of his mobile phone and those of his wife and eight senior politicians.
Yudhoyono has suspended cooperation on intelligence, people smugglers and asylum seekers' boats, and cancelled military training including an air force exercise in Darwin and another testing anti-hijacking tactics by the SAS and Indonesia's elite Kompassus unit in West Java.
The ceremonial handing over of a C-130 Hercules aircraft, the first of four refurbished ex-Australian Air Force transports gifted to Indonesia by the former Labor Government, was also called off.
The severity of Indonesia's retaliation, directly striking at the areas most sensitive to Abbott, and the possibility of flow-ons affecting important trade and business negotiations, has pushed the spy scandal well to the front of Australia's political agenda. There is no serious suggestion from any quarter that electronic eavesdropping be curtailed, and there is equally no way Abbott can expand upon the operations in his response to Yudhoyono.
Yudhoyono has proposed a binding code of conduct between the two countries on co-operation in military intelligence and people-smuggling, saying that the Cold War, when it was common to spy on different blocs, was over.
"Indonesia and Australia are not of different blocs, let alone hostile to each other. Why tap a friend, not foe?"
The spying revelations, leaked by American whistleblower Edward Snowden, have deeply embarrassed Yudhoyono, an important friend to Australia not only in Indonesia but in other Asian forums.
The anger at Australia has spread rapidly, fanned further yesterday by reports in major newspapers of tweets from prominent Liberal pollster Mark Textor, comparing Indonesian Foreign Minister Marty Natalegawa to "a 1970s Philipino porn star [with] ethics to match".
Newspapers have called Australia a "dangerous neighbour" and talkback radio, TV and Twitter have been deluged with anti-Australian calls and messages. Yesterday protesters demanded strong action outside the Australian Embassy in Jakarta, and students burnt an Australian flag at the ancient city of Yogyakarta in Java.
Hackers claiming to be members of Anonymous Indonesia also attacked the websites of the Federal Police and the Reserve Bank.
Indonesia has demanded an apology as well as an explanation, neither of which Abbott has so far been prepared to give.
He has expressed his regret at any embarrassment caused to Yudhoyono and told Parliament yesterday he intended to reply to the President's letter "swiftly, fully and courteously".
There has been no shortage of advice on how he should handle a crisis.
Former senior diplomats have advised moves deep behind the scenes, while others such as former Foreign Minister Alexander Downer have supported Abbott's present stand.
Others, including the Greens, want Abbott to apologise.
Indonesians have complained that his regret has sounded hollow and has been made more for a domestic audience.
Greg Barton, a Monash University Indonesia expert, said Abbott's response had lacked emotional substance at a time when substantial face-saving measures were urgently needed.
"At this point, the original facts of the matter are less important than perceptions of how much we care," he wrote in the Conversation.
University of Western Sydney Professor of International Law Steven Freeland further said that the spying raised legal issues.
He said that while spying was not expressly banned by international law, counties owed duties of co-operation and were not permitted to interfere in the internal affairs of other states.
They were also bound by obligations placed on the conduct of embassies.