Abbott `regrets any embarrassment' but refuses to apologise for spying on SBY's cellphone.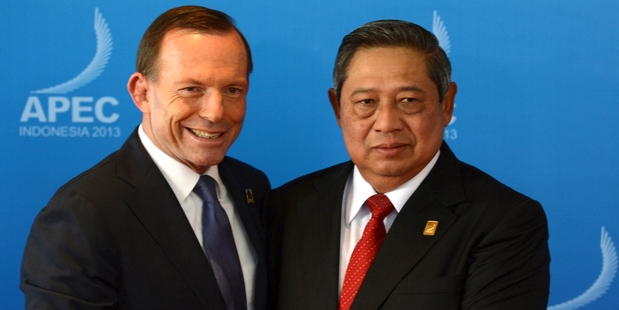 Australia's diplomatic crisis with Indonesia has deepened after the withdrawal of Jakarta's ambassador from Canberra as Prime Minister Tony Abbott refused to apologise for, or explain, its spying activities.
Indonesia has given Australia two days to provide an explanation for reports that its electronic spy agency tried to tap mobile phone calls made by President Susilo Bambang Yudhoyono, his wife, and senior politicians.
Jakarta has also announced a review of the full span of its co-operation with Australia, including terrorism and asylum seekers, both of which have already been questioned because of the new Government's policies on refugee boats and earlier allegations of electronic spying from its diplomatic posts.
The latest reports, based on documents obtained from American whistleblower Edward Snowden by the ABC and Britain's Guardian newspaper, have caused even greater offence by personally targeting Yudhoyono, whose friendship has underpinned the strengthening of ties in an often fragile relationship.
"Until today, President Susilo Bambang Yudhoyono has always paid special attention towards the deepening of the two countries' relations," said the President's special adviser for political affairs, Daniel Sparringahe. "Therefore the news has devastated us."
Australian Indonesian experts say Abbott needs to follow US President Barack Obama's line towards German Chancellor Angela Merkel after revelations American electronic spies had intercepted her communications. Obama apologised and assured Merkel her calls were no longer being monitored.
The scale of the Indonesian crisis has been fully recognised by Australia, which has for decades been trying to build a solid friendship and strategic relationship with Jakarta, despite serious rifts such as East Timorese independence. Indonesia controls vital sea lanes and lies between Australia and the Asian mainland. Its rapidly growing economy and influence in the region are a critical factor in Australia's future.
Yesterday Abbott opened Question Time in Parliament with a statement recognising the importance of the relationship and "regretting" any embarrassment caused to Yudhoyono.
"I regard President Yudhoyono as a good friend of Australia, indeed one of the very best friends that we have, anywhere in the world. That's why I sincerely regret any embarrassment that recent media reports have caused him."
But Abbott refused to apologise or retreat from the need for Australia to gather intelligence. "In the past 24 hours there have been calls for Australia to detail our intelligence operations and apologise for them.
"Australia should not be expected to apologise for the steps we take to protect our country now, or in the past, any more than other governments should be expected to apologise for the similar steps that they have taken.
"Similarly, Australia should not be expected to detail what we do to protect our country any more than other governments should be forced to detail what they do to protect theirs. Others should ask of us no more than they are prepared to do themselves."
Yudhoyono has expressed his outrage in a series of Bahasa language tweets in which he regretted statements by Abbott that "belittle this surveillance ... as if no wrong has been done". An earlier tweet used stronger language: "I also deplore the statement of Australian Prime Minister who underestimates the wiretapping of Indonesia, without any remorse."
Yudhoyono also warned that the spying had wounded Australia's strategic partnership with Indonesia.
A two-day deadline for Australia to explain its actions was issued by Coordinating Minister for Politics, Law and Security Djoko Suyanto as Indonesia's Ambassador in Canberra, Nadjib Riphat Kesoema, was ordered home. Foreign Minister Marty Natalegawa said the spying "violates every single decent and legal instrument that I can think of. It is nothing less than an unfriendly act which is having already a serious impact on our bilateral relations."
China said countries involved in spying should clarify and explain the reports. They should also "do some soul searching, respect international law and not do anything to harm another country's interests".