Australian Prime Minister's troubles compounded by revelations that President Yudhoyono's calls were among those spied on.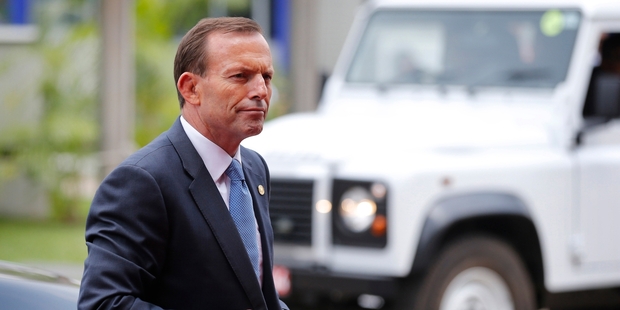 Revelations that Australian spies intercepted phone calls by Indonesian President Susilo Bambang Yudhoyono and senior politicians have added to the stack of woes piling on top of Prime Minister Tony Abbott.
The Yudhoyono intercepts follow reports that Indonesia was one of the countries targeted by secret listening stations at Australian embassies and high commissions in the region.
They have compounded tensions over asylum-seeker policies, and increase the weight of both international and domestic pressures on the new conservative Coalition Government that won power in September.
Some have the potential to shut down government services and trigger a new election.
Before the ABC and the Guardian newspaper published secret Australian Signals Directorate documents yesterday Abbott was already facing a fierce backlash from the Commonwealth Heads of Government Meeting in Sri Lanka.
Abbott sidestepped international concerns over human rights abuses stemming from Sri Lanka's civil war, rejecting calls by British Prime Minister David Cameron for an independent investigation of the allegations.
Abbott said of allegations of torture: "We accept that sometimes, in difficult circumstances, difficult things happen."
Amid growing anger Abbott also announced that two former customs patrol boats would be refurbished and handed to the Sri Lankan Navy next year to help intercept asylum seekers' vessels heading for Australia.
Abbott defended the gift as a "humanitarian" move to help prevent further drownings at sea, but he has been attacked for not specifying any conditions on the boats' use and potentially aiding alleged abuses against Tamils. Abbott also joined Canada in refusing to sign up to a new Commonwealth fund to back climate change initiatives, adding to his moves at home to abolish the carbon tax.
Labor and the Greens are likely to block the move in the Senate, despite threats of a double dissolution election if the bill is rejected by the Upper House.
Using the balance of power they will hold until the new Senate sits next July, the Greens have already joined Labor to block an increase in Australia's debt ceiling. demanding more explanations and a reduction in the Government's proposed level from A$500 billion ($562 billion) to A$400 billion.
Treasurer Joe Hockey has rejected the call, warning that Government services could be halted and that "massive cuts" could follow a continued Senate block.
Abbott now has the added headache of the spy disclosures, provided to the ABC and Guardian by exiled American whistleblower Edward Snowden.
The Government's relationship with Indonesia had already been shaken by its aggressive turn-back-the-boats policy, and damaged further by the earlier reports of spying from its Jakarta embassy.
Now Abbott has to deal with claims that the Australian Signals Directorate had been listening in on personal phone calls by Indonesia's political elite, including several potential successors to Yudhoyono.
There are already concerns that Yudhoyono, regarded as a friend to Australia, will be replaced by a far less amenable president when he retires next year.
The latest ASD material, from late 2009, deals with plans to intercept mobile phone calls as 3G technology expands across Asia, and lists the types and makes of phones used by Yudhoyono, his wife Adi Yudhoyono, and other senior politicians.
These included Vice-President Boedino, former ambassador to the US Dino Patti Djalal, at the time the president's foreign affairs spokesman and a potential presidential candidate, and Economic Affairs Minister Hatta Rajasa, another potential candidate.
Others on the list included former Vice-President Jusuf Kalla and former Finance Minister Sri Mulyani Indrawati. now a World Bank Group managing director.
The spying game
Australia:
"I am aware of media reports. All governments gather information. The Australian Government never comments on specific intelligence matters. This has been the long tradition of governments of both political persuasions and I don't intend to change that today."
Prime Minister Tony Abbott
Indonesia:
"The Australian Government urgently needs to clarify on this news to avoid further damage. The damage has been done and now trust must be rebuilt."
President Susilo Bambang Yudhoyono's foreign affairs spokesman, Teuku Faizasyah
"This is the matter of sovereignty, and the two countries are equal partners and Indonesia should not be treated as the inferior country. Indonesia and Australia are friendly countries, neighbouring countries. It's very improper and an insult that wire-tapping was conducted. This is the kind of incident which could see nationalism grow."
Deputy chairman of the Indonesian Parliament's foreign affairs and defence committee, T.B. Hasanuddin