Terrified workers at one of the Philippines' major airports described how they were forced to climb out of windows to escape being killed as the strongest typhoon in history swept across their nation and claimed the lives of up to 10,000 people.
"It was like a tsunami," said Efren Nagrama, Tacloban airport's manager, who had remained behind with his colleagues to try to keep the airport open when 4m of water surged across the runway and hit their control building.
"We escaped through the windows and I held onto a pole for nearly an hour as rain, seawater and wind swept through the airport. Some of my staff survived by clinging to trees," he said.
Super Typhoon Haiyan left a trail of destruction in the wake of its 235km/h winds and storm surges that sent waves rolling down streets. Tens of thousands of people are missing.
"My daughter was ripped from my arms by the force of the water. Now, she's gone," said one man in Tacloban, the central city worst hit.
Haiyan turned the simple wooden shacks that are the homes of most people in Tacloban and the surrounding Leyte province into piles of broken timber.
"This is every bit as bad as the 2004 Indian Ocean tsunami. It was an absolutely massive storm," said David Carden, the head of the UN Office for the Co-ordination of Humanitarian Affairs in Manila, the capital.
"It was a category five typhoon and it didn't weaken when it made landfall, so we are fearing the worst."
Regional police chief Elmer Soria said he was briefed by Leyte provincial Governor Dominic Petilla and told there were about 10,000 deaths in the province - based on reports from village officials.
Tacloban city administrator Tecson Lim said that the death toll in the city alone "could go up to 10,000." Tacloban is the Leyte provincial capital of 200,000 people and the biggest city on Leyte Island.
On Samar Island, which is facing Tacloban, Leo Dacaynos of the provincial disaster office said that 300 people were confirmed dead in Basey town and a further 2000 were missing.
He said that the storm surge caused sea waters to rise 6m before crossing to Tacloban. There were still other towns on Samar that had not been reached. Power was knocked out and there was no cellphone signal, making communication possible only by radio.
Reports from the other four islands were still coming in, so far with dozens of deaths.
A month's worth of rain fell on Tacloban in just a few hours and flash floods reduced brick buildings to rubble, while the ferocious wind flipped cars.
The head of the UN Disaster Assessment Co-ordination Team, Sebastian Rhodes Stampa, described "destruction on a massive scale" in the city and said: "The last time I saw something of this scale was in the aftermath of the Indian Ocean tsunami. There are cars thrown like tumbleweed and the streets are strewn with debris."
Al-Jazeera correspondent Jamela Alindogan was trapped in her hotel as the eye of the storm passed overhead and ripped the roof off the building. Evoking scenes of chaos as badly hurt victims wandered the streets without medicine, food or water, and doctors at the local hospital attended to the injured in the dark without electricity or candlelight, she said: "There is no food, not even in the hotels, and there's no water. The situation is really very desperate."
In the nearby town of Palo, Love Anover took refuge in a church. "I thought that because it was the house of the Lord we would be safe," she said. Anover survived, but the roof of the church was ripped off.
Even those who were safe will never forget the sound of Haiyan.
"It was like a 747 jet flying above my house," said Jim Pe, the deputy mayor of the fishing village of Coron on the island of Busuanga in Palawan, the last province that Haiyan hit before heading off towards Vietnam.
Bodies are being stored in the ruins of churches in Tacloban, and yesterday grieving relatives arrived in a constant stream to identify them.
One woman knelt on the flooded floor, weeping as she clutched the hand of a baby boy laid out on a pew.
In some towns, corpses floated down flooded streets, or washed ashore on beaches, bringing a risk of disease.
Up to one million people were thought to have been in the path of Haiyan with 4.3 million affected in total.
The search is on for survivors and to bring aid to places like Tacloban that have no power, communications, food or water, with medical supplies running low.
There were reports of hungry and homeless residents looting shops in Tacloban.
"We've been told it's okay to take food," said one man who had just raided the supermarket at a Tacloban shopping centre.
"We have had death in the family from the storm so we must care for the living and do anything to survive. Money has no value now."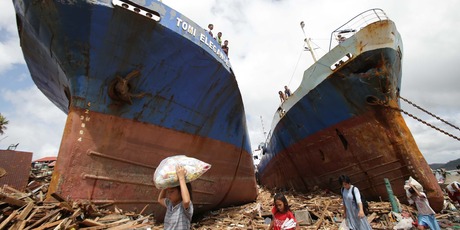 Airports in the affected regions have been left in ruins, and roads are impassable because of fallen trees and collapsed bridges.
Military helicopters are the only source of outside help for now.
Despite knowing that Haiyan was on its way days before, aid organisations admit being overwhelmed by the scale of the disaster.
"Definitely things are worse than we expected," said Richard Gordon, the chairman of the Philippines Red Cross.
"We didn't expect so much damage and so many people left dead or homeless. It's an awful, awful situation."
Many people in the areas struck by Haiyan are still unaccounted for.
Aerial surveys of the coastline further north in Leyte revealed that Haiyan tossed heavy ships ashore, while fields are completely underwater. The fear is that the people still alive in those areas are now isolated and helpless.
Concern is mounting, too, over those living in eastern Samar province and especially the town of Guiuan, where Haiyan first made landfall in the Philippines.
Hundreds of thousands of people were evacuated from low-lying coastal regions in the days before Haiyan hit, following a televised appeal by President Benigno Aquino.
But many in Leyte and Samar provinces, the worst-affected regions, were unable to leave.
"Samar and Leyte are among the poorest provinces in the Philippines. Over a third of the population live under the poverty line," said Maria Madamba-Nunez, Oxfam's spokesman in Manila.
"People aren't very mobile because they are poor and are tied to their land and fishing areas."
Millions in Vietnam now face the same possible fate as those struggling to survive in the Philippines.
Haiyan is on course to strike the centre and north of the country some time today.
Currently, a category four typhoon, it may yet pick up strength again as it crosses the South China Sea.
Aid on way for typhoon disaster victims
Governments and agencies are mounting a major relief effort to help victims of the Philippines typhoon. Charities working to provide relief in the Philippines include:
United Nations World Food Programme
WFP said it has allocated US$2 million for the disaster response and officials joined a UN-Government assessment mission to survey damage in Leyte and Samar provinces. WFP said it will send more than 40 tonnes of high-energy biscuits and work with the Philippines Government to help with logistics and emergency communications systems. It asks for donations at www.wfpusa.org or by texting the word AID to 27722 to instantly donate US$10.
Unicef
Unicef said that its staff in the Philippines is being repositioned to help in relief efforts and that 66 tonnes of emergency supplies are being sent from Copenhagen. An airlift set to arrive tomorrow will include water purification systems, storage equipment and sanitation supplies. New Zealanders can make donations to Unicef here.
Governments
New Zealand has made an initial contribution of $150,000 to the Red Cross to support immediate relief efforts. The US Pacific Command is deploying ships and aircraft to support search-and-rescue operations and airlift emergency supplies. The Australian Government has pledged nearly A$400,000 worth of emergency aid and says it stands ready to do more.
Red Cross
The Philippines Red Cross and its partners were preparing for a major relief effort "because of the magnitude of the disaster", said the agency's chairman, Richard Gordon. People can donate here.
Oxfam
Oxfam has dispatched a team of experts on the ground to assess the water, public health and sanitation conditions in Bohol today and another batch of teams will go to Northern Cebu, Northern and Eastern Samar and Leyte. People can donate to Oxfam's Disaster Response Fund here.
World Vision
World Vision said it is putting together resources to assist 1.2 million people, including food, hygiene kits, emergency shelter and protection. Donate to the Asia Pacific Emergency Fund here.
- Telegraph Group Ltd, Observer, AP