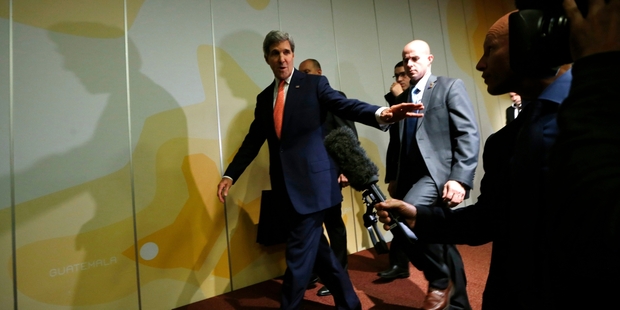 Nuclear talks between Western powers and Iran failed to reach agreement, but US Secretary of State John Kerry says Tehran and six countries made "significant progress".
Talks will resume in Geneva on November 20 with European foreign policy chief Catherine Ashton and Iranian Foreign Minister Mohammad Javad Zarif in attendance, but the other delegations will be led by senior civil servants.
Zarif was upbeat, saying he was not disappointed and the parties were on the same "wavelength".
Kerry spoke to reporters after more than three days of efforts to seal a deal meant to start limiting Iranian nuclear activities in exchange for some sanctions relief on Tehran.
Kerry and foreign ministers from the five other nations joined negotiators, but even their authority failed to resolve the differences.
Despite the lack of agreement, Kerry says the negotiators "not only narrowed the differences ... but we made significant progress".
Kerry touched on reports of differences with France, saying the US shared some French concerns. He said, "We are grateful to the French for the work we did together."
Earlier, the negotiations in Geneva hit a roadblock over French objections to a draft agreement allowing Iran to continue work on a heavy water reactor that would produce plutonium when completed.
The Iranian delegation threatened to put off the talks, complaining of splits within the six-nation group on the other side of the negotiating table.
The row is over a draft text agreement which lays out a stopgap deal to slow down elements of the Iranian nuclear programme in return for limited sanctions relief.
The French have complained that the text, which was drafted by Iran and the US, had been presented as a "fait accompli".
The French Foreign Minister, Laurent Fabius, told France Inter radio that Paris would not accept a "sucker's deal".
Iranian officials insisted that the draft had been written in close collaboration with Western officials, and said France was single-handedly holding up progress by dividing the "P5+1" negotiating group, comprising the US, UK, France, Germany, Russia and China.
Zarif would not comment on the French role directly but said: "Although the questions of the P5+1 should be addressed, a great deal of time is being spent on negotiations within the P5+1 group. This is normal, because they are six nations with different views and national interests and they need to agree."
Zarif said that, when the P5+1 was ready to agree, "we are ready to find a solution". He said: "There was a possibility, and perhaps it still exists, that if there are good intentions, we can reach an agreed-upon text."
Fabius said one of the key issues for France was Iran's heavy water reactor at Arak, which is due to reach completion next year after many delays. The West and Israel have called for construction work to stop as part of an interim deal aimed at buying time for negotiations on a more comprehensive long-term deal.
Iran says the reactor's purpose is to produce nuclear isotopes which are useful for medical and agricultural purposes. But when operating it would produce plutonium as a by-product in its spent fuel, and that plutonium would represent a serious proliferation risk, giving an alternative route to making a bomb, that would not depend on uranium enrichment.
Israel has threatened to bomb the reactor before it starts operations, pointing out that once it is fuelled bombing becomes impossible as it would scatter radioactive fallout over a large region.
At the sidelines of the talks, which shifted from Geneva's Palais des Nations to the plush Intercontinental Hotel after the foreign ministers arrived yesterday, some Western officials accused France of being intransigent to safeguard French relations with Israel, where President Francois Hollande will be making a state visit later this month, and with Gulf Arab states.
There was little doubt that the talks had reached a climactic moment of a sort not witnessed in a decade of on-off negotiations with Iran over its nuclear programme. Six foreign ministers and one deputy minister converged on Switzerland in a bid to break the deadlock.
Russia's top diplomat, Sergey Lavrov, arrived to join Fabius, Zarif, Kerry, Britain's Foreign Secretary, William Hague, and the German Foreign Minister, Guido Westerwelle. China sent Vice-Foreign Minister Li Baidong.
Western officials warned that to put off an agreement could result in a fatal loss of momentum.
- Observer, AP