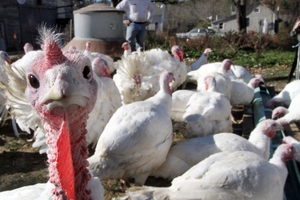 When it comes to pairing beer with poultry, Joe Morette isn't too fussy. His turkeys will drink just about anything, including beer.
Morette is raising about 50 turkeys this year for the US holiday of Thanksgiving (November 28), when turkeys are the centrepiece of feasts across America.
He has been giving his birds beer since 1993, when he and his workers popped open a few cans after work on a hot July day. A turkey knocked one over and started drinking, he said, and they've been sipping the suds ever since.
Morette, who prefers serving the turkeys lager over ale, insists beer makes birds fatter, more flavourful and juicier.
"Oh, yeah, it's noticeable," he said. "It's not a strong, gamey flavour. It's a nice turkey flavour."
Long-time customer Dan Bourque said the turkeys were far superior to supermarket varieties. "We find the gravy is much darker, and much tastier," he said. "The bird overall has a slightly different taste that is very appealing."
Animal rights group Peta said turkeys shouldn't be fed beer, but a poultry expert with the University of New Hampshire Co-operative Extension said it was unlikely the birds were suffering.
Kathi Brock, of Humane Heartland, which oversees the treatment of farm animals, said American Humane Association standards didn't prohibit serving beer to animals. An avian veterinarian had even advised hops could be "beneficial for the intestinal tract".
- AP