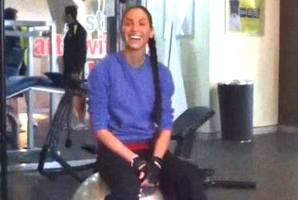 He was a jealous and possessive lover who monitored his fiancee's text messages, installed surveillance cameras in their apartment and instructed her never to look at another man. But did Simon Gittany throw Lisa Harnum off the 15th-floor balcony of their luxury Sydney apartment, or did she, emotionally unstable, jump off to a certain death?
For the past three weeks, those conflicting scenarios have gripped the New South Wales Supreme Court, where 40-year-old Gittany is accused of murdering the Canadian-born former ballerina in a fit of rage in July 2011 after finding out she was planning to leave him.
The court has so far heard from Harnum's grieving mother, Joan, whose daughter told her how Gittany made her kneel in front of him and "swear she would do as she was told". In their last phone call, the day before she died, the 30-year-old confided in her mother, then in Canada, that she was "very afraid", and begged her to "come over and help me".
It has heard from Harnum's personal trainer, Lisa Brown, whom Gittany hired to train with her at their home in the upmarket Hyde building, in the Sydney CBD, because he feared men would look at her in the gym.
Harnum told Brown that Gittany had made her quit her hairdressing job, alienated her from her friends and only allowed her to leave the apartment to buy groceries.
It has heard from her counsellor, Michelle Redmond, whom Harnum told that the relationship had reduced her to "a mere shell of a person", isolated and friendless. Gittany had threatened to have Harnum deported if she left him, according to Redmond.
She herself had been warned by Gittany, a few days before Harnum's death, never to contact her again. "I know where you live, I will f***ing harm you," he allegedly told her.
And, late this week, it finally heard from Gittany himself, who has been accompanied to court every day by his new girlfriend, Rachelle Louise, a glamorous Portuguese actor and model who, according to eyewitnesses, bears a striking resemblance to Harnum.
While agreeing that his relationship with Harnum had been "a rollercoaster" and "at times ... dysfunctional", it was she who had the problems, according to Gittany.
She was highly emotional and suffered from an eating disorder. On several occasions, when upset, she had "jumped out of moving cars", and once ran into the middle of traffic-choked George St in central Sydney. After one such incident, he said she told him: "When I'm upset, I genuinely don't know what I'm doing."
The night before she died, he told Justice Lucy McCallum, who is hearing the case without a jury, the couple fell asleep "arm in arm" while watching the film Romeo and Juliet. The following morning, they had a bitter argument, which led to him telling her to "pack her bags", Gittany testified.
It was at that point that she ran outside, climbed over their balcony and fell on to the awning of the apartment below. As he leant over, trying desperately to grab her and haul her back to safety - a manoeuvre he demonstrated in court, using the railing of the witness box - she lost her footing and fell to her death, he said, as "I screamed out her name in despair".
Video footage played to the court shows Harnum struggling to escape Gittany's grasp as he drags her back inside their rented apartment, his hand over her mouth, 69 seconds before she died. Just before that, their neighbour, Susan Glanville, heard "banging on my door" and "a woman's voice scream: 'Please help me ... God help me'," she told the judge.
Cross-examined by the senior Crown prosecutor, Mark Tedeschi, QC, Gittany could not explain why his fiancee was clutching her handbag when she went over the balcony.
He admitted buying a computer programme that enabled him to monitor her text messages - from which he gleaned she was planning to leave him and seeking friends' help to move her possessions out.
He also acknowledged installing secret cameras in and outside their apartment, saying he wanted to keep an eye on tradesmen and his cleaner.
And he agreed that, while in prison last year, he had asked his brother to go to his home and remove a hard drive containing images from the cameras, which was concealed in his ceiling.
Defence lawyer Philip Strickland, SC, told the court the relationship between Gittany and Harnum was a "loving" one, and he presented videos of the couple kissing, giggling and singing to each other. Tedeschi, meanwhile, tendered text messages, including one in which Gittany instructed his fiancee to "please don't look at any guy as your eyes should only gaze on me, the one".
The case continues next week.