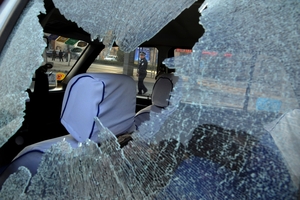 China had its second terrorist attack in as many weeks when at least six home-made bombs were detonated outside a Communist Party headquarters during morning rush hour.
One person was killed and several injured when the devices, packed with shrapnel and ball-bearings, went off as government employees were streaming in to work at the Shanxi province party committee building in Taiyuan this week.
The timing of the bombs could not come at a more sensitive moment for the party. Last week, a 4WD vehicle exploded in Tiananmen Square in what the state media termed a terrorist attack, and party leaders will soon meet in Beijing to discuss the country's economic future.
Almost all the bombs in Wednesday's attack were left in the hedges that line the road outside the 20-storey building. One was placed in a flower pot metres from the main gate of the building.
"They must have been timed for when government officials begin to arrive at work," said one resident.
"If they wanted to hurt the public, they would have left them outside the bus station. They went off one after another, with a 20-second interval between them: bang, bang, bang."
The force shattered windows and hurled debris that flattened tyres in cars 100m away, according to reports on state-run China Central Television. At least 20 vehicles were damaged in the blasts. A bus outside the building was left with its back window smashed and its paint flecked with shrapnel.
The bombs were small but sophisticated. Police investigators said they found computer circuit boards among the debris, perhaps part of a timer system.
One left on the other side of the street, outside the offices of the government-run Shanxi Literature and Art Union, exploded with enough force to pepper second floor windows 30m away. Blood stained the pavement below.
There was no confirmation of the identity of the fatality, but bystanders said an elderly woman was hit while walking her granddaughter to primary school.
The bombs appear to be confirmation that the simmering anger that has bubbled over in recent years in the form of street protests throughout China has hardened into more drastic, and deadly, action.
Local people said the building in Shanxi targeted yesterday has been a magnet for protests. Taiyuan has one of the largest wealth disparities in China, with the emergence in recent years of a class of wealthy coal barons. "There are so many groups of people who would have a reason to do this," said a 53-year-old man near the scene.