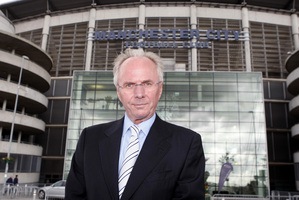 Britain's Mirror Group newspapers yesterday failed in an attempt to block phone-hacking claims brought against it by Sven-Goran Eriksson, the former England football coach, and others.
A High Court judge threw out the publisher's bid to dismiss crucial evidence in civil claims brought by Eriksson, Garry Flitcroft, a former Blackburn Rovers captain, Shobna Gulati, a Coronation Street actress, and Abbie Gibson, a former nanny working for David and Victoria Beckham. He also rejected a bid by MGN to strike out the claims of Flitcroft and Gibson.
Mark Lewis, the solicitor representing the four claimants, said: "My company has been contacted by another 30 to 40 people who believe their phones were hacked, and I'm aware of another 25 to 30 claims lodged with other companies, so we could be looking at 60 to 65 claims in the fullness of time."
The Metropolitan Police are investigating allegations of phone hacking at MGN titles. Four current or former Mirror Group staff have been arrested.
Mirror Group had asked the court to prevent each claimant relying in part on evidence of other claimants' voicemails being intercepted to back their own cases.
At the High Court, Justice Sir George Mann said it was clear MGN's criticisms were, on the whole, ill-founded.
He said Flitcroft, who says MGN found he was having an affair by hacking his voicemails, had "a real prospect of establishing that phone hacking played its part".
Eriksson believes his affair with television presenter Ulrika Jonsson was discovered through phone hacking.
In a statement to the Stock Exchange, MGN said the company "continues to contest the four claims vigorously".
Meanwhile, Google was ordered yesterday to block its search engine in France from providing links to images of a sadomasochist orgy involving Max Mosley, the former Formula One chief, in a ruling handed down by a Paris court.
The owner of the world's most-used internet search engine said the ruling would force it to create a "censorship machine", warning it would set a dangerous legal precedent for internet freedom.
It contends that the search engine is merely a platform that delivers links to content and it should not be responsible for policing them.
The ruling, which could influence broader European efforts to tighten web privacy rules, relates to nine widely circulated images taken from a video of the orgy that was filmed by the now defunct News of the World.
Mosley had sued in bid to get Google in France to filter the images and delete any links to them. Google is appealing against the ruling.