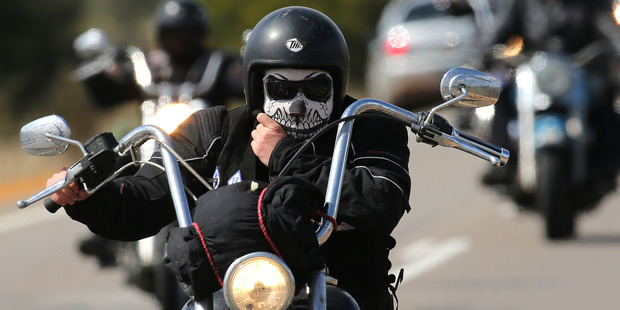 Australia yesterday stepped up its war against outlaw motorcycle gangs, launching a new federal-state strike team in Victoria and announcing plans to stop foreign bikies entering the country.
Federal authorities are already working with police in Queensland - which has enacted draconian laws to crush the gangs - and will soon begin operating in New South Wales.
Federal agencies now drawn into the war include the Customs and Border Protection Service and the Tax Office. A new "one-stop intelligence shop" is also being created, moving the national anti-gangs intelligence centre into the Crime Commission, Australia's key organised crime-busting agency.
"These gangs are the public face of organised crime in Australia, responsible for the illicit drug trade, vehicle rebirthing, firearms trafficking, money laundering, extortion, prostitution, property crime and corruption," federal Justice Minister Michael Keenan said.
"What we are seeing is a new and unprecedented level of co-operation between Australian law enforcement agencies and their state colleagues to target gang-related crime."
The new federal-Victorian strike team follows a steadily increasing wave of anti-bikie action around the country, including harsh new laws and sweeping raids against gang clubhouses and businesses.
But the bikies have been fighting back, launching often successful court challenges against legislation in several states and, in Queensland, using tactics such as legal declarations of membership resignation to avoid anti-association laws. They are planning further High Court challenges, and are working on a public relations campaign targeting civil rights implications.
"As the [Queensland] legislation is similar to the extreme laws of South Australia and NSW, police will have sweeping new powers to use against any citizen without the checks and balances needed in a healthy democracy," the United Motorcycle Council of Queensland said. Its concerns have been supported by mainstream civil rights advocates such as former NSW director of public prosecutions Nicholas Cowdery and former High Court judge Murray Gleeson.
Prominent lawyer Terry O'Gorman, of the Civil Liberties Council, has described the new Queensland laws as a "ludicrous and unjust ... exercise in gesture politics" that eclipsed some of the worst laws passed by the notorious state Government of the late Sir Joh Bjelke-Petersen.
But politicians and law agencies across Australia are not blinking.
The new Queensland laws include a mandatory 15 years on top of normal sentences for serious crimes committed as part of gang activities with a further 10 years for club officials, and a special bikies-only jail in which inmates will wear pink, be denied gym facilities and TV, and have their phone calls monitored and mail opened and censored.
As well as laws banning association between members of gangs declared criminal organisations, gang bikes will be crushed for certain crimes and bikies will be banned from operating or working in tattoo parlours.
Other states are studying Queensland's moves as possible models for their own laws.
The arrival of California's Mongols in Australia and their takeover of Finks chapters around the nation has further alarmed authorities, prompting the new federal move to block foreign bikies from entering Australia.
The Federal Police and Crime Commission will work with the Customs and Border Protection Service and other federal, state and international agencies in a joint action, Operation Hades.
"We want to make sure that they're stopped at the border before they can come and do Australia any harm," Keenan said.
Operation Hades
* Established to prevent organised criminal group members entering Australia.
* Involves customs, federal police and the Australian Crime Commission.
* Victorian anti-gang strike team includes five federal police, one Australian Tax Office official.
* Embedded within Victoria police organised crime taskforce.
* Supported by surveillance teams and proceeds of crime investigators.
* Set up under A$64 million ($73 million) National Anti-Gang Squad, which includes federal police, ACC, customs, Department of Immigration and Centrelink. Will share intelligence between jurisdictions.
- AAP