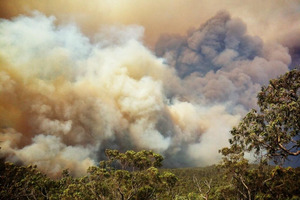 Firefighters are using Twitter to rapidly map and respond to the New South Wales bushfire crisis.
In the past, emergency services have relied heavily on triple-zero calls and radio communications for alerts about new disasters and that hasn't changed.
But thanks to breakthrough software designed by Australian scientists, the Rural Fire Service is monitoring eyewitness accounts on Twitter to map and respond quickly to the blazes that have torn through the Blue Mountains.
The software, called Emergency Situation Awareness, has been developed by Commonwealth Scientific and Industrial Research and works by sounding an alarm whenever a cluster of unusual words are tweeted.
"It looks at what we call anomalous behaviour," CSIRO scientist Alan Dormer said.
"In the Blue Mountains you may get x number of tweets during a normal hour - but if you suddenly see a cluster of certain words like 'fire', it triggers," he said.
In the past four days there have been 30,000 tweets from the Blue Mountains using the word 'fire', 18,000 using 'bushfire', 9000 using 'emergencies' and 2000 using 'evacuations', according to CSIRO data.
The ESA software can pinpoint the precise location of each of those tweets and tell the difference between false alarms and real emergencies.
The Rural Fire Service has been using that information to not only map the fires but as part of its frontline response - potentially saving lives and property.
The technology has been developed over the past five years and although the NSW bushfires are not the first disaster ESA has been used in, they are one of the biggest.
During trials last year, ESA helped detect a grass fire near Cloncurry Hospital, in Outback Queensland, before any triple zero calls were received.
The software is monitoring tweets all over Australia in a bid to give early warnings of other emergencies, including tsunamis, earthquakes and cyclones. It may be extended to monitor other social media platforms and ultimately help predict longer-term disaster impacts.
- AAP