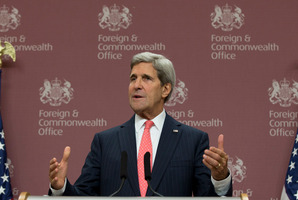 A diplomatic row between the United States and Saudi Arabia has burst into the open in a development that could threaten one of the Middle East's core alliances and Washington's leadership in the region.
The head of Saudi intelligence declared that the kingdom was "scaling back" co-operation with the CIA over arming and training Syrian rebels and seeking alternative weapons suppliers to the US.
The unprecedented rebuke by Prince Bandar Bin Sultan al-Saud came after Saudi Arabia last weekend shocked diplomats by rejecting a prized seat on the UN Security Council.
Bandar reportedly told diplomats the decision was intended as "a message for the US" concerning Saudi frustration with the Obama Administration's failure to arm rebels in Syria and the rising prospect of a nuclear deal that would favour Iran, Riyadh's foe.
John Kerry, the US Secretary of State, confirmed that he had been forced to defend US policy at lengthy meetings with Prince Saud Al-Faisal, the Saudi Foreign Minister, in Paris.
Kerry said that President Barack Obama agreed to the meetings, held on the sidelines of a gathering to discuss the progress of the Middle East peace talks.
He described a "very frank conversation" that covered "every one of these things" - Egypt, Middle East peace, Iran and Syria.
"I explained exactly where the US is coming from and will continue to consult with our Saudi friends as we always have in the past," said Kerry.
On Iran, Saudi Arabian alarm was such that he felt obliged to "reaffirm President Obama's commitment that he will not allow Iran to have a nuclear weapon".
Referring to Washington's decision to back down from missile strikes against the Damascus regime, Kerry admitted that "the Saudis were obviously disappointed the strikes didn't take place, and have questions about some other things that may be happening in the region".
But he added that "the US and Saudi Arabia will continue to be the close and important friends and allies that we have been".
Analysts and diplomats in Washington were divided over whether the row presented a serious threat of divorce or was merely a "marital tiff" in an 80-year relationship founded on the mutual interests of Saudi Arabian oil and the US ability to provide security guarantees.
Saudi frustration with Obama's failure to carry out air strikes last month appears to have boiled over amid fears that the US is backing a peace deal, with Russian and Iranian support, that would leave much of the infrastructure of the Assad regime in place.