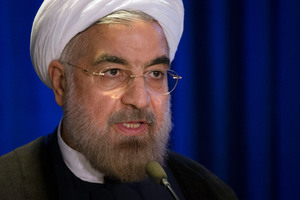 An attempt by Iran's reformist President, Hassan Rouhani, to abolish the chant "Death to America" as part of his drive to improve relations with the West has angered hardliners.
The slogan, "Marg bar Amrika" in Farsi, has been heard at official occasions in Tehran since the Islamic revolution in 1979. It would be broadcast every Friday on television and echoed at mosques after prayers. A debate began last month when reformist prayer leaders in Tehran and other major cities told the congregations to hold their tongues. "We can stand against powers with prudence rather than with slogans," Rouhani said.
The most senior cleric in Isfahan, Sheikh Mohammad Taghi Rahbar, called for a ban. "Death to America is not a verse in the holy book of Koran and there is no logic in chanting it for ever." Ahmad Khatami, a noted hardliner, rebelled: "As long as there is American evil in the world, this slogan will endure across the nation."
Former MP Emad Forough said: "Death to America has been the symbol of our freedom movement since the inception of Islamic Revolution. However, if we are forced to become pragmatist and abandon it, let's not pretend that this chalice of poison is a cup of honey."