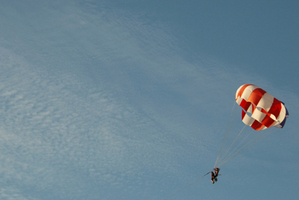 Three parachutists made a desperate bid to exit a blazing aircraft seconds before it plunged into a field in southern Belgium, killing 11 people.
The men attempted to open their parachutes after jumping from the light plane, which had caught fire and lost a wing shortly after take-off. But their parachutes failed to open in time and they perished along with seven other parachutists and the pilot, who had become a father for the second time earlier in the week.
Three parachutes were later found opened at the scene of the crash near the village of Marchovelette, 10km from Namur yesterday. The plane careered into a field of wheat, less than 250m from a row of houses.
Most of the 11 victims are believed to be experienced parachutists, apart from a young woman flying for the first time as a birthday treat.
The PC-6 Pilatus Porter plane had taken off from the Temploux aerodrome but is thought to have developed a wing problem after reaching a height of about 3000m.
Benolit Pierson, who was in his garden nearby at the time, said, "I just saw this plane bobbing violently up and down. It was obviously having great difficulty staying airborne and then it suddenly lost its right wing in mid-flight. I heard a massive bang. There was another massive explosion and 10 seconds later it crashed."
He told Belgian television that seconds before it hit the ground, he saw three parachutists come out of the plane and try in vain to open their parachutes.
"They appeared to be desperately trying to open their parachutes but it was much too late. They must have opened just as they landed. I could see one of the victims was still alive ... but he was clearly terribly injured. I tried to get into the plane but was beaten back by the flames."
Meanwhile, a wingwalker fell from a biplane during a manoeuvre in Florida. Local news reports quoted witnesses as saying the victim fell from the plane and was too low to fully deploy his parachute.
Emergency crews found the body in Land O' Lakes after the accident happened during an air show at Tampa Airport.