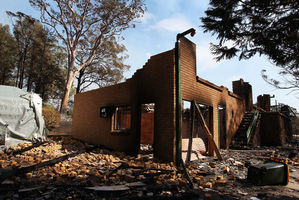 Firefighters continue to wage a relentless battle against massive fires that threaten to engulf the entire Blue Mountains region west of Sydney as temperatures rise again into the 30s.
Late yesterday Premier Barry O'Farrell declared a state of emergency that gives police, fire and other emergency crews the power to force evacuations, shut down public utilities including electricity and gas, and enter or demolish buildings.
As weather conditions worsened amid predictions of stronger winds and higher temperatures than earlier forecast, fire authorities warned that the most dangerous fires could link into one massive conflagration that would threaten the western fringes of Sydney.
Outlining a worst-case scenario, Rural Fire Commissioner Shane Fitzsimmons said: "We could see the communities of the Blue Mountains from Mt Victoria and Blackheath all the way down to Penrith will be affected by fire, and also the Bells Line of Road and then into north western Sydney and Richmond".
Yesterday, walls of flame threatened homes and property in the Hunter Valley, the wine-growing region around Cowra and Mudgee in the Central Ranges, and the Illawara region on the south coast.
Thousands of people have been warned to be ready to flee their homes as extreme conditions move towards an expected peak on Wednesday.
"We have unparalleled risk and exposure for the Blue Mountains and Hawkesbury [region]," Fitzsimmons said.
Earlier hopes of rain are fading with forecasters now predicting only isolated showers across the state in the next few days, bringing little relief for firefighters and residents as temperatures rise and hot winds return.
The NSW fires have confirmed grim predictions of a deadly summer approaching. More than 1000 fires had broken out before the present crisis, alarming authorities with both their early onset and their intensity.
Yesterday the Bureau of Meteorology issued severe fire risk warnings for vast tracts of Queensland's northwest and outback Channel Country, and for much of South Australia's pastoral country, the Eyre Peninsula and the irrigated wine and fruit-growing Riverland region.
In NSW more than 200 homes have been destroyed by fires that have raged across a 300km front since last Thursday. More than 100 homes have been damaged and almost 40,000ha of land razed.
The toll of other buildings, vehicles, fencing, powerlines and other infrastructure has not even begun to be calculated, but already runs into the tens of millions of dollars. Authorities expect the losses and costs to soar.
So far there has been only one death confirmed in NSW - a 63-year-old man who died of a heart attack defending his home - but there are concerns the toll could rise as police and emergency crews are able to move into devastated areas. A firefighter in his 60s also died while helping a friend do a burn-off in Victoria's northwest.
Late yesterday the small town of Bell was told to evacuate as the huge fire burning near Lithgow in the Central Tablelands about 150km west of Sydney again erupted through containment lines. Residents of nearby Mt Tomah and Berambing were also advised to leave.
Elsewhere in the state, fire crews were fighting more than 60 fires, 15 of them out of control. Reinforcements have been sent to help from every state except Western Australia.
Among the firefighters battling the fires at the weekend was Prime Minister Tony Abbott, a volunteer with the northern Sydney suburb of Davidson's brigade. The Queen has praised volunteers in a message to the state, saying: "My thoughts are with the many people who have lost their homes or livelihoods in the fires and I have the greatest admiration for the firefighters, volunteers and emergency services officers who are working tirelessly to control the situation."
Authorities yesterday began broadcasting contingency plans, warning that only "well-prepared and actively defended" homes had any chance of survival. "If you plan to leave, or you are not prepared and there is a safer place nearby, leave now if it is safe to do so," the Rural Fire Service said. "If you are in doubt or it is not safe to leave, take shelter in a solid structure when the fire front arrives. Protect yourself from the heat of the fire."