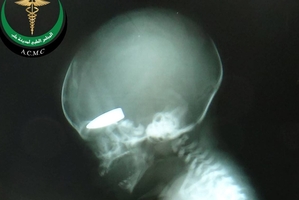 Assad regime snipers in Syria are shooting pregnant women and their unborn babies in a disturbing "game" of target practice, a British surgeon has claimed.
David Nott, who has spent five weeks volunteering in a Syrian hospital, said each day snipers would choose to aim at different parts of the civilians' bodies as they ran from one part of the city to another to buy food and supplies.
One day it would be the groin, one day it would be the neck, the next it would be the chest, he told the London Times.
"From the first patients that came in in the morning, you could almost tell what you would see for the rest of the day. It was a game. We heard the snipers were winning packets of cigarettes for hitting the correct number of targets."
On one day more than six pregnant women were caught by sniper fire and on another day two heavily pregnant women were targeted. They survived but their unborn babies died, one suffering a bullet to the brain.
"The women were all shot through the uterus, so that must have been where they were aiming for ... This was deliberate. It was hell beyond hell," he told the paper.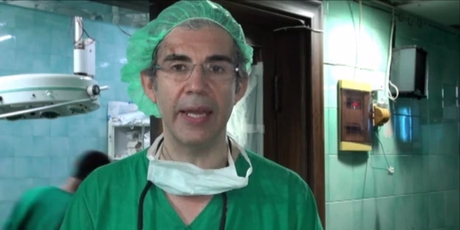 Nott, who has been volunteering in war zones including Bosnia, Libya and Sudan for 20 years, said at times, he found it difficult to cope with.
Speaking on Radio Four's Today programme, he said: "I can't explain how horrendous the whole thing is."
Nott, who said he could not reveal the location of the hospital in which he was working, said he could not be certain which side the snipers were on but believed they were on the side of President Bashar al-Assad's regime. He said he was told there were 72 snipers in total in the area, who were picking off civilians as they tried to cross from one city to another to fetch food.
"I was there for five weeks and I was exhausted at the end of it," he said.
Pictures showing an x-ray purportedly of a fetus with a bullet lodged in its skull were provided by charity Syria Relief. Their authenticity could not be verified and the skull in the image showed no sign of damage from a high-velocity bullet.
Nott described Syria as the most desperate of all war zones and the first place he had seen civilians, and especially pregnant women, being targeted. Nott estimated that 90 per cent of the people he treated were civilians.
He also described terrible conditions in Syrian hospitals that lacked even basic supplies and hygiene equipment. He said local doctors worked under the threat of violence and some suffered from depression but were not willing to abandon their patients. A vascular surgeon at Chelsea and Westminster Hospital who had volunteered in Syria before, Nott said he saw little to no evidence of foreign aid reaching the places that badly needed it.