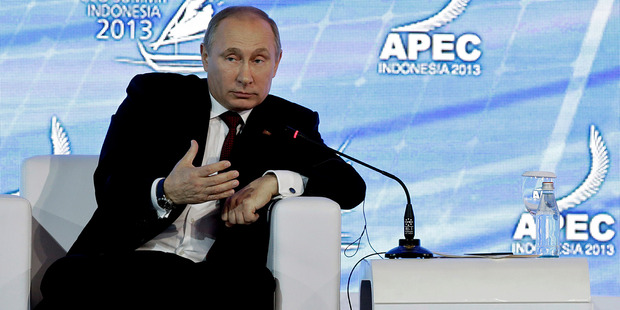 Eleven Nobel Peace Prize laureates have written a letter to Russian President Vladimir Putin calling for piracy charges against environmental activists, including two New Zealanders, to be dropped.
"We are writing to ask you to do all you can to ensure that the excessive charges of piracy against the 28 Greenpeace activists, freelance photographer and freelance video grapher are dropped, and that any charges brought are consistent with international and Russian law," laureates including South African archbishop Desmond Tutu and Northern Irish peace activists Mairead Maguire and Betty Williams said in the letter. They also urged Putin to "rededicate efforts to protect the Arctic".
The letter comes after Angela Merkel, the German Chancellor, became the first head of state to raise the issue of the crew's detention with Putin, urging a speedy resolution of the case in a phone call on Thursday.
New Zealanders David Haussmann and Jonathan Beauchamp are among those being held in Murmansk.
Armed officials detained the Greenpeace ship Arctic Sunrise and the 30 people on board last month after two activists attempted to hang a banner on a Russian oil rig in the Barents Sea.
Former US Secretary of State Hillary Clinton said last week there should be a "greater international outcry" over the case.
The Netherlands began legal proceedings against Russia to free the Dutch-registered Greenpeace vessel and its crew.
New Zealand Prime Minister John Key met Putin in Bali this month and said Putin "gave me an assurance it [the case] would flow through the appropriate Russian judicial system" and that "in the end people need to consider their actions - the risks or otherwise - and I'm sure those protesters thought about all those issues".
Putin's spokesman Dmitry Peskov said that although the President "pays a lot of attention" to the opinion of Nobel laureates, he is not the "correct recipient" for the letter, state news agency RIA Novosti reported.
The Murmansk Regional Court yesterday denied bail to Australian radio operator Colin Keith Russell and Dutch engineer Mannes Ubels. The day before it had denied bail to four others, including British activist Anthony Perrett. Out of the six Britons in confinement, Philip Ball, Kieron Bryan, Frank Hewetson and Mr Perrett have been denied bail so far.
Russia's Investigative Committee said last week that more charges would be brought against some of those detained after it claimed to have found illegal drugs on board the ship, allegations that Greenpeace denied.
- Independent