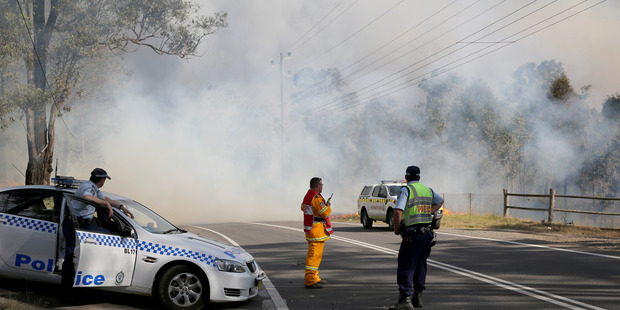 Volunteer firefighters were injured battling the fires in New South Wales as police began to investigate the possibility that they were deliberately lit.
News.com.au reported that police were investigating whether arson was responsible for all three of the fires which began on Thursday in the Blue Mountains west of Sydney.
Officers were looking for evidence of arsonists lighting fires, it said.
Meanwhile, a water-bombing helicopter became caught in power lines at Chain Valley Bay on the Central Coast yesterday afternoon, the website reported. NSW Premier Barry O'Farrell said two volunteer firefighters were being treated for injuries in hospital, while two residents understood to be affected by fire were in intensive care at Concord Hospital.
Fighting back tears, Fire Services Commissioner Shane Fitzsimmons praised the work of his firefighters, many of whom have lost their own homes defending the lives of strangers.
Prime Minister Tony Abbott, himself a volunteer firefighter, urged NSW employers to be patient with workers who were volunteer rural firefighters during the coming long, hot, dry summer.
"This is an important way in which the families and businesses can serve our community, by supporting those of their members who are out with the rural fire brigades," he said at Winmalee Fire Station in the Blue Mountains.
An interstate contingent of 200 firefighters might be boosted further to help with the emergency.
Victoria has sent 130 personnel to NSW with South Australia sending 51 and Tasmania a team of 20 staff.
Fire authorities say they will consider sending further assistance to relieve their colleagues from the NSW Rural Fire Service. Tasmania Fire Service deputy chief officer Gavin Freeman says other assistance to NSW is a possibility.
The most serious of the fires burning across NSW is in the region near Winmalee. "I just want to say how sorry we are on behalf of the people and the parliament of Australia for the heartache which so many hundreds of people in NSW are currently dealing with, but how proud we are of the thousands of volunteers and full-time professionals [firefighters]," he said.
Charities, businesses and big banks, meanwhile, are launching relief appeals across Australia as victims of the NSW bushfires begin discovering what they have lost.
As insurers said yesterday they had already received A$30 million ($34 million) worth of claims, the Salvation Army and Saint Vincent de Paul were co-ordinating financial and emotional assistance for those in the worst-hit communities.
As of yesterday about 550 claims totalling A$30 million had been lodged since the fires broke out on Thursday, many for total loss of properties, according to the Insurance Council of Australia.
"We expect this will rise quite sharply over coming days and weeks," spokesman Campbell Fuller said yesterday.
The volume of claims was likely to surpass that from earlier blazes at Coonabarabran and could approach the A$89 million total from Tasmania's Dunalley fires in January, he said.
St Vincent de Paul CEO Michael Perusco said the organisation had received dozens of appeals for help and that emotional support was an important part of the charity's work.
"Sometimes it's just having a conversation, sometimes it's about helping people connect with other more professional services, and sometimes it's just being there with the children and the family," he said. He encouraged people to donate money rather than just clothes or food supplies.
Big business has also pitched in.
People are able to make donations to the Salvos relief at Woolworths checkouts across Australia, with the grocer matching donations dollar for dollar.
Meanwhile, Westpac and the National Australia Bank are offering to defer home loan repayments for eligible customers.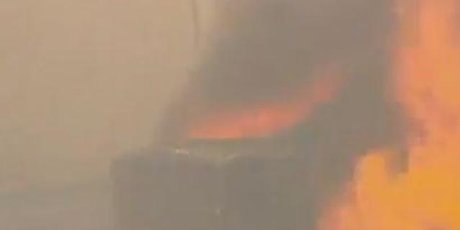 Apocalyptic - villagers describe devastation
Residents of a heritage seaside town devastated by fire on the NSW central coast have described the scene as "apocalyptic".
A bushfire ripped through the quaint Catherine Hill Bay village near Lake Macquarie on Thursday, burning five historical buildings.
Wallarah House, built in 1887, was reduced to charred remains.
Residents were evacuated before the fire's arrival and are still waiting to learn when they will be allowed back in to the town.
Wayne Demarco, who has lived in the village for 23 years, said the jetty master's house and the historic jetty were either destroyed or damaged.
Also burned was the historic police cell at the rear of Demarco's residence.
"It looks very apocalyptic," he said. "It looks horrible with telephone poles burned to the ground and things just destroyed."
Demarco said he stayed at his home for as long as possible before the fire hit.
"We stayed there until as late as we could until the fire came over.
"It was huge ... strong southerly winds and flames as high as trees."
He said it was a shame to lose historic buildings " ... because so many of these things that have survived fires over the years".
Catherine Hill Bay Progress Association president Sue Whyte had been creating a heritage brochure for the town and the now-destroyed historical structures were to be star features.
As someone who had passionately dedicated her time to Catherine Hill Bay's heritage, Whyte said she felt wounded.
She said the police cell was one of only two left in NSW.
"I have an account for the last person who occupied the police house," she said.
"But then when that building is gone, you can't just stand and look at something that's not there."
She said she was evacuated on Thursday and is waiting to get back into town to assess the damage.
- AAP