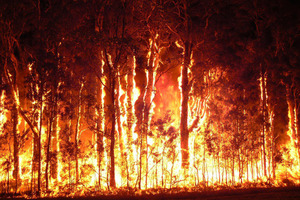 Thousands of firefighters, some drafted in from other states, will continue attacking massive fronts in New South Wales in a battle that is likely to last for weeks.
With one man confirmed dead, seven people in hospital, as many as 200 homes lost and tens of thousands of hectares already razed in the state's worst fire emergency in a decade, even lower temperatures and milder winds gave little reprieve yesterday.
Temperatures are expected to climb again tomorrow, with almost 100 fires still burning - dozens still uncontained - continuing a nightmare that many expect will worsen in the coming summer.
Record temperatures have turned most of the eastern states into tinderboxes that have already erupted into many hundreds of fires through South Australia, Victoria, NSW and Queensland in a fire season that is only weeks old.
The massive ring of flames that has circled Sydney since Thursday will continue to burn through heavily wooded and rugged valleys in remote areas of the Blue Valley, where Rural Fire Services commissioner Shane Fitzsimmons yesterday described a vast conflagration near Lithgow as a "monster fire".
"It's not going to be put out any time soon," he said of an outbreak that has already consumed 25,000ha and may burn through as much as 100,000ha before it is beaten.
Others will leave time bombs in their wake, hotspots that could flare lethally again as temperatures climb and winds return.
The months ahead look grim. With more temperature records likely to fall, conditions will test exhausted fire crews through the present emergency into new crises that authorities warn could be repeated along the eastern seaboard.
This week's fires followed record hot days in September and early this month. Low rainfall and drought in Queensland have pumped the heatbowl of central and northern Australia, driving hot fronts and searing winds down the coast.
For two months eastern Australia has been buffeted by a series of hot and cold fronts, each propelling gale-force winds ahead of them.
The front that hit NSW this week and exploded into fire through the central west, Blue Mountains, Hunter Valley and parts of the coast north and south of Sydney eased yesterday, but brought only slight relief.
Temperatures fell to the low-to-mid-20s and winds abated. But the scale and ferocity of the major fires continued a momentum that overwhelmed efforts to halt and contain fronts that stretched for scores of kilometres and raged through bush and grass at up to 25km/h.
Hard-pressed crews, among them firefighters whose own homes had been destroyed, have been working 24 hours a day in terrifying and exhausting conditions. 'We've got the best firefighters in the world," an emotional Fitzsimmons said. "They are second to none. They've lost their homes. They know they've lost homes of their neighbours."
A 63-year-old man died trying to save his home, and late yesterday seven people had been hospitalised.
"It's a regrettable death and if we stay at one I think we'll be very lucky," NSW Premier Barry O'Farrell said.
Authorities fear more victims could be found in the ruins, but no one will know until police and emergency teams conduct house-to-house searches once it becomes safe.
Prime Minister Tony Abbott, himself a volunteer fireman who planned yesterday to visit the devastated area, said the nation's sympathies were with those affected by the fires.
"Australia is a country that is prone to natural disaster but every time it strikes it hurts, and we grieve for those who are now hurting because of what has happened in New South Wales," he said.
Thousands of people have been evacuated from their homes, with many staying in emergency shelters. Insurers have declared the fires a "catastrophe" that will ensure its victims are their top priority. Police are also chasing "mongrels" who looted homes. Some fires are being investigated as possible arsons.
Harrowing stories emerged as shocked evacuees took stock yesterday. At Yellow Rock on the western outskirts of Sydney, Jayden Maloney was trapped at a lookout with about 60 others as flames cut off their only escape routes.
"It all happened so quickly, fast," he told ANC News Breakfast.
"I got the kids in the car and the dog and went over to my mum's house who lives around the corner," he added.
"[At the lookout] we had to sit back and wait to see what the fire did, and then the firestorm hit my mum's backyard. I've never seen anything like it."