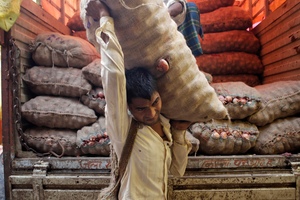 Slavery is far from dead, according to a survey released this week.
The global slavery index shows the number of people trapped in modern slavery across the world, and ranks 162 countries accordingly.
India was found to have almost 14 million people living in conditions of slavery - nearly half of the entire number of 30 million worldwide.
In terms of proportion of its population, Mauritania ranked the worst. As many as 4 per cent of its people are regarded as slaves largely because they inherit the status from ancestors.
Britain was ranked joint-last in this proportionate table, tied 160th with Ireland and Iceland, but the report warned that this does not mean the countries are free of slavery.
On the contrary, it is estimated between 4200 and 4600 people are in modern slavery in the UK alone.
An analysis of the British response on this issue confirms much more can be done, as the Government response is fragmented and disjointed, and that there have been alarming systemic failures, including the loss of trafficked children from care.
The index was produced by the Walk Free Foundation, an Australian-based body founded last year which campaigns for human rights and has been endorsed by influential figures including former United States Secretary of State Hillary Clinton and Microsoft co-founder Bill Gates.
Clinton said although the index wasn't perfect, it provided a starting point. "I urge leaders around the world to view this index as a call to action, and to stay focused on the work of responding to this crime," she said.
WFF classed several practices, customs and abuses under the broad term of slavery, which included debt bondage, forced marriage, human trafficking and child soldiers.
The numbers produced are estimates, based on analysis of government reports, statistics and the work of non-profit organisations.
"Most Governments don't dig deeply into slavery for a lot of bad reasons," said WFF chief executive Nick Grono. "There are exceptions, but many Governments don't want to know about people who can't vote, who are hidden away, and are likely to be illegal anyway."
The report said the west African nation of Mauritania had about 150,000 people living as slaves, out of a population of just 3.8 million.
In terms of proportionate rates, Haiti came second with about one in 10 children used for child labour in an exploitative system. Pakistan came third in both the proportionate and total rankings - with 1.8 million people forced into bonded labour, out of 2.1 million people in slavery.
India, ranked fourth proportionately because of its huge population, had the highest number thanks to child labour and forced marriages.
Russia, at 49th, was the worst-faring European country in the list, with more than 500,000 in slavery.
In absolute terms, China, Pakistan and Nigeria followed India, and, with the rest of the top-10 countries, made up three-quarters of the world's population of people living in slavery.
- Independent