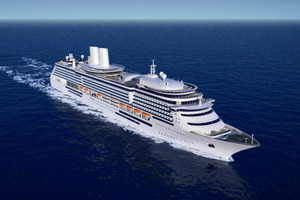 The last thing a couple on a Caribbean cruise ship expected to hear when they opened their cabin window was cries for help.
An hour later, three American men, who had been clinging to their capsized speedboat without life-jackets for 10 hours, were pulled from the sea.
Roy Nagy, who was on the ship with his wife Kendra, described the drama on their first night aboard the Royal Caribbean vessel, The Jewel of the Seas.
"We started to go back to sleep, and right after that, we started to hear voices out in the water," Nagy said. "We heard, 'Hey, hey, hey, hey'."
The couple from Massachusetts presumed other passengers had fallen overboard, but saw nothing when they peered out into the darkness, and the cries were fading fast.
They called the control room and the captain turned the vessel around, but in the darkness it took an hour to locate the source of the cries with its floodlights.
"As the ship got closer, we saw the guy there waving. That's when we really got goosebumps. We were thrilled that somebody was going to be rescued."
The three men had been in the sea since the previous evening when the speedboat filled with water and capsized in the US Virgin Islands.
One of the survivors expressed his gratitude to the Nagys. Matthew Spencer said: "There's really a lot of nice and beautiful people in the world."