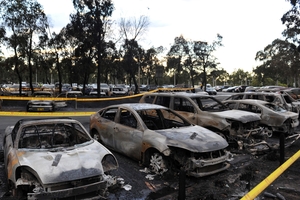 A single cigarette may have cost Sydney families tens of thousands of dollars, with some uninsured cars incinerated in a freak blaze.
Police are reviewing CCTV footage as they investigate the cause of a fire on Sunday night that tore through the Sydney Aquatic Centre car park, destroying 47 cars, damaging another 33 and forcing mass evacuations.
Firefighters say the conditions were horrendous with temperatures of 36 degrees, 5 per cent humidity and winds gusting to 70km/h.
"I've never seen fire moving through cars like this," New South Wales Fire and Rescue Commissioner Greg Mullins said. "The fire was leaping from car to car, being driven by the wind. It was quite random, there was no visibility here. Thick black smoke, towering flames, incredible heat."
He said investigators' "strong speculation" was that an errant cigarette butt sparked the blaze.
It's believed a smoker may have thrown a smouldering cigarette onto the tinder-dry grass in the parking lot, despite a total fire ban in place across the state.
An NRMA Insurance spokeswoman said the extent of the damage was not yet known because many drivers were yet to regain access to their cars. "We're currently working with our impacted customers to give them the support they need," she said.
But a number of uninsured car owners have already emerged. Idesa Vincent from the Ryde-Carlile swimming club, which was holding its annual meet at the centre, lost her car. "The alarms went, they were basically herding us out of the front entrance as quickly as possible. They got everyone outside and across the road. The police were on hand straight away," she told the ABC.
Vincent said she could hear what sounded like explosions and quickly realised her car - which only had third party insurance - would not escape unscathed.
Another unlucky motorist, Vahid Noshahr, told News Corp Australia his uninsured 2008 Toyota was destroyed. "It's terrible. It is a new car. I had been saving up and only bought it last year. It cost me A$10,000 and I cancelled the insurance because I was going to sell it."
Meanwhile, a bushfire that destroyed a number of properties in the NSW area of Port Stephens was started by sparking power lines, firefighters say.
Six homes were destroyed when fire tore through the area between Salt Ash and Tanilba Bay in Port Stephens on Sunday night.
Initial investigations suggest the fire, which burned out more than 50ha, was caused by power lines sparking in the high winds, the NSW Rural Fire Service says.
Investigators are still trying to find out what started fires at Fingal Bay and the Heatherbrae area, also in Port Stephens. More than 177ha were burned out near Fingal Bay.
A southerly change overnight ended 24 hours of extreme conditions and brought rain to some areas of the Hunter region. That allowed firefighters to downgrade fires in Port Stephens from "watch and act" to "advice".
- AAP