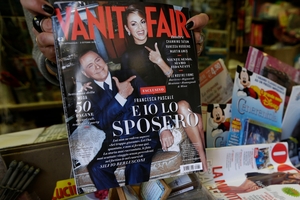 Francesca Pascale, the 28-year-old fiancee of Silvio Berlusconi, has wasted no time in shaking things up at Palazzo Grazioli, the sumptuous home she now shares with the former Prime Minister in Rome.
Along the way she has made some unusual discoveries - including the fact that Il Cavaliere (The Knight), a self-made billionaire who prides himself on his business acumen, has been paying 80 ($130) a kilo for green beans - about 16 times the going rate.
Pascale, a former shop assistant from Naples, disclosed that she had initiated a "spending review" of her 77-year-old fiance's household.
"They were being charged 80 a kilo for beans, can you imagine?" she told Oggi, an Italian news magazine.
Berlusconi's caterers were also buying huge quantities of expensive fresh fish - despite the fact that he cannot stand the stuff.
Such things would no longer be permitted now "there is a woman in the house", she said.
Pascale said Berlusconi was finding it hard to sleep - a week after an unprecedented rebellion within his People of Freedom party forced him into reversing his plans to bring down the coalition Government, and as he faces the ignominy of being expelled from Parliament.
"We're anxious, we no longer know what a good night's sleep is," she said. "It's all happening at once and it is just not fair, whatever you may think about Silvio."
The Senate, the upper house of Parliament, is due to vote next week on whether to strip Berlusconi of his seat, following his conviction in August for tax fraud involving his Mediaset television empire.
He was given a four-year sentence, which was reduced to one year under an amnesty law.
He is now expected to serve 12 months' community service, heaping more humiliation on the man who has dominated Italian politics for 20 years.
Pascale complained that she had been unfairly portrayed as an opportunistic "hyena" who had chased away the aspiring models, actresses and alleged call-girls from Berlusconi's "bunga bunga" entourage.
She also criticised the enormous amount of money that Berlusconi has been ordered to pay his former wife, Veronica Lario, in their divorce settlement.
"In what kind of country is there no outcry from the public when a man is condemned to pay 3 million a month to his ex-wife?" said Pascale, whose love for Berlusconi is matched only by her passion for Dudu, her Maltese terrier.
Italians might wonder why the former Premier chose her, when he had many young women competing for his attention, but it was because she helped bring "order" to his life, Pascale said.
In an interview with the Italian edition of Vanity Fair last month, she said she had first started pursuing him when she was a teenager, offering him her telephone number at a party rally.