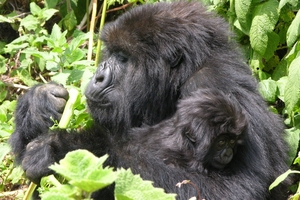 Controversial aerial surveys aimed at finding oil under Africa's oldest national park have been started by a British company amid fears that drilling in the area could seriously threaten the world's last sanctuary for mountain gorillas.
The moves towards possible oil exploration in Virunga national park, in the Democratic Republic of Congo, have been condemned by the British Government and by the World Wildlife Fund (WWF).
This week the WWF launched a campaign, Draw the Line, against the exploitation of the park, which was established in 1925 and designated a World Heritage Site by Unesco in 1979.
Soco International, which has its headquarters in London, has defended its aerial survey, saying it is being governed and monitored under the terms of the Environmental Acceptability Certificate issued by the DRC's Ministry of the Environment, Nature Conservation and Tourism.
But this year the Unesco world heritage committee called for the cancellation of all such Virunga oil permits and appealed to two concession holders, Total SA and Soco International, not to undertake exploration in world heritage sites.
Total has since agreed to respect Virunga Park's boundaries, leaving Soco as the only oil and gas firm planning to explore in the park's 7800sq km. It claims its area of interest is not near the gorillas' habitat. Rangers and wildlife experts disagree.
Virunga is already in a fragile state, thanks to poachers. In addition, it sits close to the DRC's borders with Uganda and Rwanda and has been affected by influxes of refugees and militias during both the Congo civil war and the Rwandan genocide, as well as ongoing skirmishes with rebel groups.
It is home to 200 of the endangered mountain gorillas, a quarter of the world population.
Recent years have been a success story for the park, thanks to the efforts of conservationists and local rangers. The number of mountain gorillas has more than doubled in the past decade. But many park staff have been killed by poachers and militias.
Virunga is temporarily closed to visitors because of the violence.
Drew McVey is the regional manager for East Africa at WWF in Britain and has just returned from the region.
"Virunga has been a fantastic success in the past few years," he said.
"But now to have this terrible threat hanging over it of oil exploration is just so disturbing."
- Observer