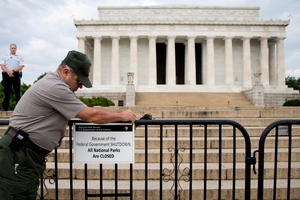 About 800,000 federal workers have stayed home for a second day, closing many US monuments and parks. Photo / AP
Wall Street to Washington: end the shutdown and move on.
The US stock market ended lower yesterday as traders, Europe's central banker and Wall Street chief executives urged Congress to stop the two-day government shutdown that has closed national parks, put hundreds of thousands of federal employees on furlough and forced President Barack Obama to consider cancelling an overseas trip.
Wall Street made it clear the longer the budget fight drags on, the more its bankers worry about significant damage to the economy and the possibility that Congress won't allow the government to borrow more. The financial market sees that as a disastrous move that could send the US into recession.
"I'm not going out there and beating my chest and saying the world is coming to an end here," said Brad McMillan, the chief investment officer at Commonwealth Financial. "But we face the possibility for significantly greater disruptions than the market is currently pricing in."
The Dow Jones ended the day down 58.56 points, or 0.4 per cent, at 15,133.14. The Standard & Poor's 500 index fell 1.13 points, or 0.1 per cent, to 1693.87. The Nasdaq composite declined 2.96 points, or 0.1 per cent, to 3815.02.
Six of 10 industry sectors in the S&P 500 fell. Declines were led by the makers of consumer staples and industrial companies.
Defence companies, which rely on government contracts for a large part of their revenue, led declines for industrial companies. Raytheon fell 2.2 per cent to US$76.08. Lockheed Martin dropped 1.9 per cent to US$125.
In Washington, Republicans in the House of Representatives are insisting Democrats negotiate over President Obama's new health care law as part of the budget talks. Senate Democrats, led by Majority Leader Harry Reid of Nevada, insist that Republicans pass a straightforward temporary funding bill with no strings attached.
After Obama summoned Congressional leaders to the White House yesterday, the market started to recoup some losses but the recovery later faded.
"The markets are sending a loud message to Washington lawmakers to get their act together and resolve the budget crisis," said Peter Cardillo, chief market economist at Rockwell Global Capital.
Treasury Secretary Jacob Lew told Congress unless lawmakers acted in time, he would run out of money to pay the nation's bills by October 17.
Congress must periodically raise the limit on government borrowing to keep US funds flowing, a once-routine matter that has become locked in battles over the federal budget deficit.
During the last impasse over the borrowing limit, in August 2011, there was a downgrade of the United States' credit rating by Standard & Poor's and a plunge in the stock market.
The shutdown is ill-timed because the US economic recovery is still on shaky foundations.
US businesses added 166,000 jobs last month, payroll company ADP said, a level consistent with only a modest improvement in hiring. Economists polled by FactSet had forecast 180,000 jobs would be added.
"It's clear the economy hasn't picked up steam like people were anticipating," said Kate Warne, an investment strategist at Edward Jones. "Especially with the government shutdown, there's not a lot going to help it do so over the next couple of months."
About 800,000 federal workers stayed home again yesterday on the shutdown's second day, the first since the winter of 1995-96.
The market for some of the world's safest investments, US government bonds, was mostly calm yesterday. The yield on US 10-year Treasury notes, where investors put their money for minimal risk, was little changed. It traded at 2.63 per cent, compared to 2.65 per cent the day before.
But there were signs of nervousness in the market for short-term US debt.
Investors have been selling off one-month T-bills that mature around the time the US government is expected to hit the debt ceiling.
- AP