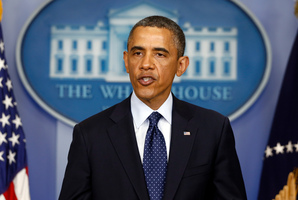 President Barack Obama has accused Republicans of shutting down the Government over an "ideological crusade" to deny affordable health insurance to millions of Americans.
Congress appeared no closer to reaching a deal last night as Democrats and Republicans remained deadlocked even as the government shutdown put about 800,000 workers on unpaid leave and closed parts of federal agencies across the country.
Republicans kept firm on their refusal to fund the Government unless the President rolled back his healthcare law, large parts of which went into force. Obama and his Democrat allies held their ground as well, insisting they would not negotiate over Obamacare as part of the budget talks. "As long as I am President, I will not give in to reckless demands by some in the Republican Party to deny affordable health insurance to millions of hardworking Americans," Obama said.
Earlier, Obama said in a letter to the country's federal workers that Congress had treated them "like a punching bag".
Both sides are braced to see whom the American public blames for the shutdown, which is estimated to be costing the economy US$300 million ($365 million) a day. Initial opinion polls make encouraging reading for the White House, with a Quinnipiac survey finding that 72 per cent of Americans are opposed to the Republican strategy.
John Boehner, the Republican Speaker of the House of Representatives, offered to begin talks with the Senate but was turned down by Democrat senators who said negotiations would lead nowhere.
Congressmen from districts with large numbers of federal employees have come under intense pressure to reach a deal.