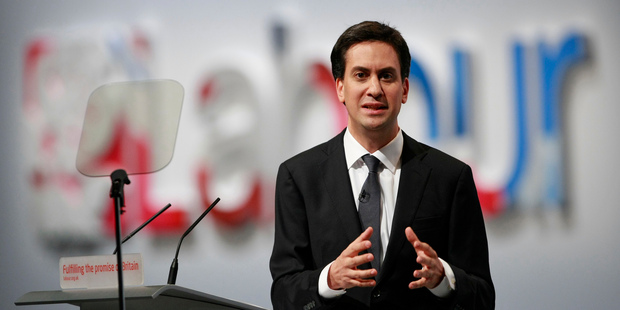 Ed Miliband has accused the Daily Mail of propagating an "appalling lie" to smear his dead father as a "man who hated Britain".
In a remarkable attack on the newspaper, the Labour leader said it was overstepping the boundaries of civilised debate by deliberately besmirching and undermining his father Ralph, who died in 1994.
Miliband had earlier demanded a right to reply after the Mail published what he described as a character assassination based on a diary Ralph Miliband wrote when he was a teenager. Although the paper printed the Labour leader's response, it did so alongside an abridged version of the original article and an editorial headlined: "An evil legacy and why we won't apologise".
The editorial reiterated the Mail's claim that Ralph Miliband had "nothing but contempt for Britain's values, traditions and institutions" and suggested that Miliband would like to censor discussion about his father's past. "Chillingly the father's distain [sic] for freedom of expression can be seen in his son's determination to place the British press under statutory control.
If he crushes the freedom of the press, no doubt his father will be proud of him from beyond the grave, where he lies 12 yards from the remains of Karl Marx."
The Mail is at odds with Miliband over his support for statutory regulation of the press as proposed by Lord Justice Leveson in response to the phone-hacking scandal. Paul Dacre, the Mail's editor and the chairman of the Press Complaints Commission, the current regulator, is adamant that the industry must be allowed to continue policing itself.
Miliband said he was appalled the paper had repeated the lie that his father hated Britain, saying: "I'm not willing to let my father's good name be besmirched and undermined in the way that the Daily Mail are doing. It is about right and wrong. It is about how the way we conduct political debate in this country."
A spokesman for the paper said: "We ask fair-minded people to read our editorial. For what this episode confirms is that you cannot allow politicians anywhere near regulating the press." But Miliband said: "This is not about regulation. It is about right and wrong."
He received support from Westminster, with the Lib Dem leader Nick Clegg saying that politics "should be about playing the ball, not the man, certainly not the man's family". Prime Minister David Cameron also backed Miliband, saying: "If anyone had a go at my father, I would want to respond very vigorously. There's not a day goes by that you don't think about your dad and all that he meant to you, so I completely understand why Ed would want to get his own point of view across."
In the original article the writer Geoffrey Levy examined the political beliefs of the Marxist academic and how they influenced his two sons. The paper quoted the 17-year-old Ralph writing in his diary that the Englishman is a "rabid nationalist" and "you sometimes want them almost to lose [the war] to show them how things are".
But Miliband said politics did not justify character assassination of his father, who joined the Royal Navy and fought in World War II after arriving in Britain from Belgium. Miliband has frequently referred to his father in speeches and how his values and experiences shaped him.
He wrote: "Like most refugees, the security of our country was really important to him. And like some refugees, he owed his life to it. So my dad loved Britain, he served Britain, and he taught both [brother] David and me to do the same."
- Independent